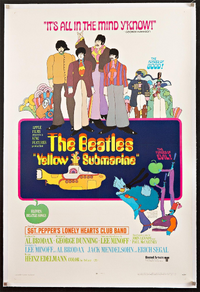 Yellow Submarine (also known as The Beatles: Yellow Submarine) is a 1968 British animated musical fantasy film inspired by the music of the Beatles, directed by animation producer George Dunning, and produced by United Artists and King Features Syndicate. Initial press reports stated that the Beatles themselves would provide their own character voices; however, aside from composing and performing the songs, the real Beatles participated only in the closing scene of the film, while their cartoon counterparts were voiced by other actors.
Storyline
When the music hating Blue Meanies take over Pepperland and freeze everyone within it, including the protectors, Sgt Peppers Lonely Hearts Club Band. Captain Fred and his Yellow Submarine recruit The Beatles to help save Pepperland. Along the way, they fall through the Sea of Time, Sea of Nothing, Sea of Holes and more. They meet Jeremy Hillary Boob Ph.D. and take him with them along the adventure. When at Pepperland, the Beatles "rally the land to rebellion" and take down the Blue Meanies, the four-headed Meanie dog and the Dreadful Flying Glove (with the songs "Sgt. Peppers Lonely Hearts Club Band", "With A Little Help From My Friends", "Hey Bulldog", "All You Need is Love"). In the end, we see all four live-action Beatles singing "All Together Now".
Sound Effects Used
Image Gallery
Audio Samples
External Links
Community content is available under
CC-BY-SA
unless otherwise noted.