Wiki Targeted (Entertainment)
Play Sound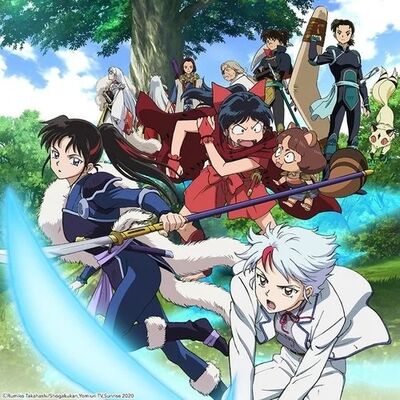 Yashahime: Princess Half-Demon (Japanese: 半妖の夜叉姫, Hepburn: Hanyō no Yashahime) is a Japanese anime television series produced by Sunrise. It is a sequel to the Inuyasha anime series, based on the original manga series written and illustrated by Rumiko Takahashi. It is the story of Towa Higurashi and Setsuna, Sesshomaru's twin daughters, and Moroha, Inuyasha and Kagome Higurashi's teenage daughter.
Storyline
Many years after the events of Inuyasha, Sesshōmaru's daughter four-year-old Towa is separated from her younger twin sister Setsuna and gets stranded in the modern era, where she is adopted into Kagome Higurashi's family, raised by her younger brother Sota.
Ten years later, Towa is reunited with Setsuna, who came to the modern time through the power of the Tree of Ages. During their separation, Setsuna became a demon-slayer working under Kohaku and does not remember her past. In order to restore Setsuna's memories, they embark on an adventure while accompanied by their cousin Moroha, who is the teenage daughter of Inuyasha and Kagome Higurashi and also has no memory of her parents.
Air Date
Season 1: October 3, 2020 – March 20, 2021
Season 2: October 2, 2021
Also See
Inuyasha the Movie: Affections Touching Across Time (2001)

Inuyasha the Movie: The Castle Beyond the Looking Glass (2002)

Inuyasha the Movie: Swords of an Honorable Ruler (2003)

Inuyasha the Movie: Fire on the Mystic Island (2004)
Sound Effects Used
Image Gallery
Yashahime: Princess Half-Demon/Image Gallery
Audio Samples
External Links