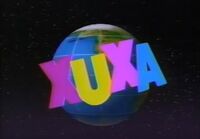 Xuxa is an American children's television series hosted by Xuxa Meneghel that aired in first-run syndication between September 13 and December 31, 1993, for a total of 65 episodes. The program, which was based on Rede Globo's Xou da Xuxa, was created by Thomas W. Lynch and Marlene Mattos, with MTM Enterprises handing production. The show works with several blocks, where in each block, a game is presented. The program also received famous people or diverse professionals, as well as educational lessons.
In 1992, the program was in dispute to be created by MTM Enterprises, who had different ideas of a show for the Brazilian children's hosts. However, Xuxa considered the idea of MTM was more interesting, and ended up getting the company in the end.
The program debuted in September 1993; it is entirely based on Xou da Xuxa, but with more American culture aspects, gaining some differences from the original program, because the Paquitas were called Pixies and Xuxa had the help of characters like a panda bear named Jelly, played by E. E. Bell and Jam, the jaguar, played by Mark Caso, Natasha Pearce as Paquita, and Jeff Dunham. Xuxa was the first and only Brazilian to have a television program in the United States.
Storyline
Sound Effects Used
Image Gallery
Audio Samples
Community content is available under
CC-BY-SA
unless otherwise noted.