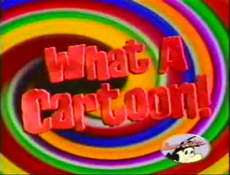 What a Cartoon! is a block of original cartoons produced for Cartoon Network by parent company Hanna-Barbera. It was renamed "The Cartoon Cartoon Show", which turned into a block of cartoon shows, many of which spun-off from their pilots in the show.
Early episodes use Advantage Audio for sound services; most What a Cartoon! episodes use Twenty-First Century Entertainment. A few episodes also used Horta Editorial & Sound, Larson Studios and Three Rivers Editorial for sound editing services, and a few even had the sound editing done in-house at Hanna-Barbera. Some What a Cartoon! shorts and mostly later The Cartoon Cartoon Show shorts would vary with sound services, including Hanna-Barbera/Cartoon Network Studios, Hacienda Post and Twenty-First Century Entertainment.
Sound Effects Used
Image Gallery
Audio Samples
External Links
Community content is available under
CC-BY-SA
unless otherwise noted.