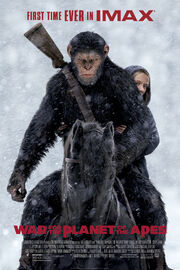 War for the Planet of the Apes is the third installment of the Planet of the Apes remake trilogy. Post Production Facilities were provided by 20th Century Fox themselves; Skywalker Sound wasn't directly involved, though many of their creatives and some sound effects contributed. Douglas Murray and Will Files reprised their roles from the former installment, Dawn of the Planet of the Apes (2014), as Sound Designers and Supervising Sound Editors. Additional Sound Designers include David Grimaldi and Jack Whittaker. Foley was done by One Step Up with Dan O'Connell (Supervising) & John T. Cucci. FX Recordists included David Feinup (Orangutans), Jeff Alex Thomas, Jason Tuttle, and Will Files (uncredited). Foley was supervised by John Morris and edited by Willard Overstreet, Thom Brennan, and Matthew Harrison.
Storyline
Also See
Sound Effects Used
Classic Anime Falling Whistle (May've been used to accent a background arrow)
SKYWALKER PUNCHING SOUNDS (One of the hits is used for an arrow impacting a body)
Sound Ideas, RICOCHET - CARTOON RICCO 05 (May've been used to accent a background tracer/bullet or arrow)
Sound Ideas, SIREN, AIR RAID - AIR RAID 02
Image Gallery
Audio Samples
External Links
Community content is available under
CC-BY-SA
unless otherwise noted.