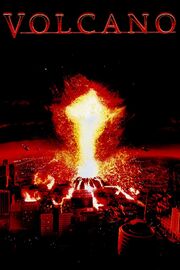 Volcano
 is a 1997 American disaster film directed by Mick Jackson and produced by Andrew Z. Davis, Neal H. Moritz and Lauren Shuler Donner. The storyline was conceived from a screenplay written by Jerome Armstrong and Billy Ray. The film features Tommy Lee Jones, Anne Heche, and Don Cheadle. Jones is cast as the head of the Los Angeles County Office of Emergency Management (LAC OEM), which has complete authority in the event of an emergency or natural disaster. His character attempts to divert the path of a dangerous lava flow through the streets of Los Angeles following the formation of a volcano at the La Brea Tar Pits.
A joint collective effort to commit to the film's production was made by the film studios of 20th Century Fox, Moritz Original and Shuler Donner/Donner Productions. It was commercially distributed by 20th Century Fox. Volcano explores civil viewpoints, such as awareness, evacuation and crisis prevention. Although the film used extensive special effects, it failed to receive any award nominations from mainstream motion picture organizations for its production merits.
Volcano premiered in theaters nationwide in the United States on April 25, 1997 grossing $49,323,468 in domestic ticket receipts, on a $90 million budget. It earned an additional $73.5 million in business through international release to top out at a combined $122,823,468 in gross revenue. Despite its release and recognition, Dante's Peak (which was released 2 months before) gained more commercial success than Volcano. It was also met with mixed critical reviews before its initial screening in cinemas. The Region 1 code widescreen edition of the film featuring special features was released on DVD in the United States on March 9, 1999. Skywalker Sound provided Post Production Sound Effects Services: Christopher Boyes was Sound Supervision/Designer and an uncredited Supervising Sound Editor with Tom Bellfort and John A. Larsen. Dennie Thorpe & Jana Vance did foley, edited by Bruce Lacey, Marian Wilde and Sandina Bailo-Lape. Tom Myers did Additional Sound Design, and Matthew Wood did Assistant Sound Design.
Storyline
When a massive earthquake rocks the city of Los Angeles, Emergency Management department head Mike Roark (Tommy Lee Jones) returns from his vacation to help with the city's response. After geologist Dr. Amy Barnes (Anne Heche) warns that a volcano may be forming in sewer tunnels, another severe earthquake unleashes the lava flowing underfoot, threatening to destroy the whole city. As the fiery molten rock runs through the streets, Roark and Barnes must figure out how to divert it.
Sound Effects Used
Hollywoodedge, Baby Crying Slowly PE144001
Hollywoodedge, Cats Two Meowing Clos PE022401
Hollywoodedge, Crash Metal Shatter PE110401
Hollywoodedge, Machine Gun Silence PE1010701
Sound Ideas, HOSPITAL - HEART MONITOR: MONITORING, CONSTANT BEEPS
Sound Ideas, SIREN - OLD POLICE SIREN? (Some old-fashioned siren is used for some of the fire engine's sirens, namely Engine 17 when it's struck down by a "lava bomb")
SKYWALKER BIG METAL SQUEAKING 02
SKYWALKER, BULLET - BULLET OR RICOCHET SHINGS
SKYWALKER, CAR - VARIOUS TIRE SCREECHING
SKYWALKER, CAR - TRUCK TIRES SQUEALING
SKYWALKER, CAR - TRUCK TIRES SQUEALING 03
SKYWALKER, ELECTRICITY - BIG VARIOUS SPARKINGS
SKYWALKER, ELECTRICITY - THE FORCE WHINE (Heard once mixed with a higher-pitched version of SKYWALKER HIGH-PITCHED POW SOUND.)
SKYWALKER EXPLOSION 10 / SKYWALKER FIRE ROARING SOUND
SKYWALKER, EXPLOSION - BIG CRUNCH (Mostly used for water impacts)
SKYWALKER, EXPLOSION - MASSIVE INFERNO ROARING (various pitches)
SKYWALKER, EXPLOSION - TANK FIRE
SKYWALKER CAR CRUSHING SLOWLY WITH METAL SQUEAKING (Heard as Engine 17 scrapes to a stop on the road)
SKYWALKER HIGH-PITCHED CLUSTERING BIG BOULDER CRACKLE SOUND
SKYWALKER HIGH-PITCHED POW SOUND
SKYWALKER EXPLOSION 07 (Including many variants)
SKYWALKER, EXPLOSION - MASSIVE EXPLOSION, LOUD, HYPER-REALISTIC
SKYWALKER GLASS, SMASH - LARGE WINDOW CRASH
SKYWALKER, METAL - LID CLANGING 01
SKYWALKER, METAL - LID CLANGING 02
SKYWALKER, WHISTLE - LAVA BOMB WHISTLES (debut)
Image Gallery
Audio Samples
Community content is available under
CC-BY-SA
unless otherwise noted.