When I got The Producers Sound  Effects Library, the ebay seller included a bonus SFX CD called Spectacular Sound Effects: Fun! with Sound Effects Vol. II. The listing of SFX on the CD is messed up (I think that the CD's label is correct, but it lists not all of the SFX on the back cover).
Anyone interested in helping to identify all of the SFX on the Spectacular Sound Effects CD s?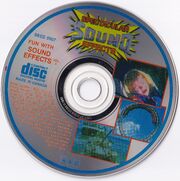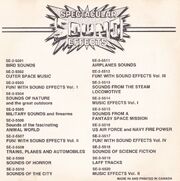 I posted the front, back, insert and label of this CD for reference. The insert (the back of the front cover) lists all of the Spectacular Sound Effects "libraries" available for purchase. They're from Distributions Madacy Inc. which's in Canada.
One of the main questions is if the SFX on these CDs are part of any Sound Ideas/Hollywood Edge CD library. Are they SFX from H-B, Universal, Warner Bros., Sound Ideas Series whatever-thousand, Hollywood Edge or any other SFX libraries???
Community content is available under
CC-BY-SA
unless otherwise noted.