Hi! I'm Milt Franklyn!
I am Male who lives in New York City, born on September 16, 1897, and my Occupation is ACME, Arcade Games, Plarail, and Pre-2014 Trackmaster.
I'm Afraid that's not a nightingale. What else could it be?
MYYYYEEEERRRROOOOAAAAAAUUUUUUHHHHHH!!!
NO! NO! NO, NO, NO!!
Anyways, It's always the worst day ever when Whitney hears "Sound Ideas, COW - SINGLE MOO, ANIMAL 02" because she falls for it when she's watching SpongeBob SquarePants, Ed, Edd n' Eddy, Gerald McBoing Boing, Chick-Fil-A ads, Regular Show, A Chance of Meatballs 2, Nacho Libre, Team Umizoomi, Race To The Edge, Bubble Guppies, PAW Patrol, and more that uses it.
And the reason why she hates the sound So much is that IT IS LUDICROUS, DEPLORABLE, BLOOD CURDLING, FRIGHTENING, AND NAUSEATELY VILE TO HER TWO HUMAN EARS!!!!!!!!! THE DEMONIC SOUND EDITORS ALWAYS CHOOSE THE ONE FROM THE GENERAL SERIES 6K!!!!!!! IT INVADED THE 99.9% OF THE WHOLE ENTIRE MEDIA!!!! IT INVADED SHOWS & MOVIES LIKE ADDAMS FAMILY '92, BLUE'S CLUES, ED EDD N' EDDY, SPONGEBOB, PINK PANTHER AND PALS, CHLOE'S CLOSET, GERALD MCBOING BOING 2005, YURU YURI, SONIC BOOM, TEAM UMIZOOMI, THOMAS & FRIENDS, BUBBLE GUPPIES, REGULAR SHOW, THE FAIRLY ODDPARENTS, THE UPSIDE DOWN SHOW, THE LOUD HOUSE, POWERPUFF GIRLS 2016, DREAMWORKS DRAGONS: RACE TO THE EDGE, PAW PATROL, NACHO LIBRE, TOM AND JERRY AND THE WIZARD OF OZ, MINIONS, ICE AGE COLLISION COURSE, THE BOSS BABY, CARS 3, 1000 WAYS TO DIE, HANNAH MONTANA THE MOVIE (especially for the trailers and promos) AND THE CHEESPIDER IN CLOUDY WITH A CHANCE OF MEATBALLS 2!!!!!!!!
Even the hated reboot of Thomas titled "All Engines Go" uses that sound.
And also, back in 2008, she went in to the Sierra Vista Theatre in Fresno to see Bolt, and before the movie started, it had a Policy Trailer with a cow on it, and it made MOO 02 WHICH MADE HER EXTREMELY FURIOUS AN IT RUINED HER EXPERIENCE TO SEE BOLT!!!!!, and back in 2011, when she was going to see Alvin and the Chipmunks: Chipwrecked (2011), The policy trailer appeared again right before the movie started, she was quick to cover her ears so she won't ruin it for anybody else.
So Whitney, YOU WANT THIS DEMONIC MONSTROSITY TO END?!?!?!?!?! Well we're friends with you!
It goes "myyyyeeeerrrrooooaAAAAAUUUUUUHHHHHH"; the "myyyyeeeerrrr" part sounds bassy and curdling (kinda like milk curdling) and scares her into thinking the most obnoxious part of the sound effect, which is the trumpeting moaning "ooooaAAAAAUUUUUUHHHHHH", would come next.
WHY THE HECK IS THIS MONSTROSITY OF A COW MOO SO OVERUSED, LIKE THEY TREAT THAT IT'S THE ONLY COW SOUND EFFECT IN THE WORLD!?!?!?!?
WHY CAN'T YOU JUST USE THE OTHER ONES INSTEAD???????? SHE WOULD TAKE SCREAM 03 OR KRICKETUNE'S CRY OVER THIS ANY DAY!!!!
I SWEAR, IF SHE EVER HEARS THIS SOUND IN AN AMAZING-LOOKING PIECE OF MEDIA, SHE WILL GO MONSTROSITIZED INSANE!!!! MAY THIS PATHETIC PIECE OF GARBAGE BE BANNED!!!!!!!!!!!!
Here is a Mean message to Moo 02.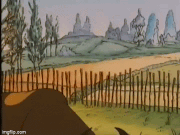 Dear Sound Ideas, You make "COW - SINGLE MOO, ANIMAL 02" the worst sound effect towards Whitney that is ever used for 35 years! YOU FIRST DEBUTED IN THE 1987 TV SPECIAL "THE NIGHTINGALE". I HOPE YOU GET TURNED INTO HAMBURGERS!!!! BECAUSE YOU ARE A HORRIBLE CANADIAN COW THAT IS OWNED BY SOUND IDEAS!!! YOUR "myyeeeerrrroooooaaaaaAAAAAAAAAAAAAAAAAAAAUUuuuh"-ing crap invaded 99% piece of media!!! WE ARE GONNA TURN YOU INTO HAMBURGERS BECAUSE YOUR HORRIBLE MOOING MAKES USERS ANGRY!!!!! I HOPE YOU GET BANNED YOU MOTHERFREAKING MYEEEROOOOAAAAAAUHING COW FROM CANADA!!!!!
Sincerely, Milt Franklyn.