Jurassic World: Dominion Dominates Fandom Wikis - The Loop
Play Sound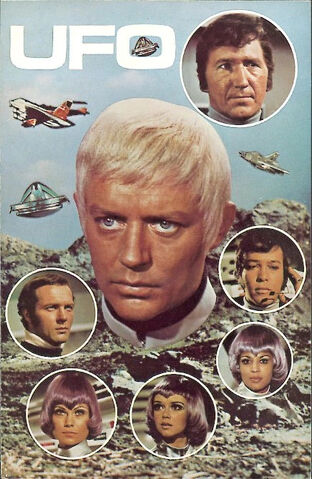 UFO is a British science fiction television series about the ongoing covert efforts of a government defence organisation to prevent an alien invasion of Earth. It was created by Gerry Anderson and Sylvia Anderson with Reg Hill, and produced by the Andersons and Lew Grade's Century 21 for Grade's ITC Entertainment company.
A single series of 26 episodes (including the pilot) was filmed over the course of more than a year; a five-month production break was caused by the closure of MGM-British Studios in Borehamwood, where the show was initially made. Production then moved to Pinewood Studios in Buckinghamshire. UFO was first broadcast in the UK and Canada in 1970, and in US syndication over the next two years.
The Andersons' live-action science fiction movie Doppelgänger (also known as Journey to the Far Side of the Sun) is considered an immediate precursor to UFO, which was their first entirely live-action TV series (their previous shows had used marionettes). The series featured actors, costumes, props, locations and music that had appeared in the film, and 11 cast members of the film appeared in at least one episode of UFO.
Following syndication in the US and initial favourable ratings, a possible second series was planned; initially entitled UFO 1999, this eventually became Space: 1999.
Storyline
The series' premise is that in 1980 (a date indicated repeatedly in the opening credits), Earth is being visited by aliens from a dying planet, who are abducting humans and harvesting their organs for their own bodies. The alien incursions may also be a prelude to a possible full-scale invasion. The series' main cast of characters are the staff of a secret, high-technology international military agency called SHADO (an acronym for Supreme Headquarters Alien Defence Organisation) established by the governments of the United Kingdom, the United States, the Soviet Union, France and Germany (believed to be West Germany as the city of Bonn is mentioned along with Washington, Paris and Moscow) to defend Earth and humanity against the mysterious aliens and learn more about them, while at the same time keeping the threat of an alien invasion hidden from the public.
Sound Effects Used
Image Gallery
Audio Samples