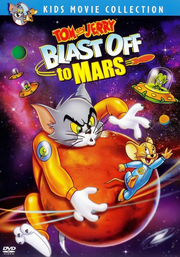 Tom and Jerry: Blast Off to Mars is the 2nd Direct-To-Video Tom and Jerry movie and the first of two directed by Bill Kopp. Hacienda Post provided Post Production Sound Services: Timothy J. Borquez & Tom Syslo are the sound supervisors; Roy Braverman and Jeff Hutchins served as sound editors and uncredited sound designers; Michael Geisler also served as a sound editor; Sean Rowe performed the foley.
Sound Effects Used
Image Gallery
Audio Samples
External Links
Unlisted Sound Design Reel by Roy Braverman Jeff Hutchins on the sound of Tom and Jerry: Blast Off to Mars
Community content is available under
CC-BY-SA
unless otherwise noted.