Jurassic World: Dominion Dominates Fandom Wikis - The Loop
Play Sound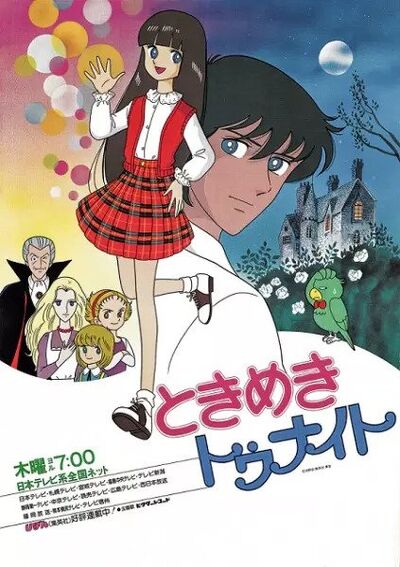 Tokimeki Tonight (Japanese: ときめきトゥナイト, Hepburn: Tokimeki Tunaito, lit. "Exciting Tonight") is a anime series based on the manga series by Koi Ikeno.
Air Date
October 7, 1982 – September 22, 1983
Storyline
15-year-old Ranze Eto lives in an isolated castle in Japan with her werewolf mother, vampire father, and younger brother, Rinze. Despite her lineage, she has yet to demonstrate any special powers of her own, and her parents are worried she might be a normal girl. One day, Ranze's innate power finally manifests itself when she, quite by accident, discovers that she can change herself into a carbon copy of any object she bites, whether it be a person or an inanimate object like a piece of bread, and can return to her normal self only by sneezing. Her parents are overjoyed, but Ranze's new powers make it difficult to continue living life as a normal teenage girl.
On Ranze's first day at her new school in junior high, she meets and falls in love with the brash yet handsome young athlete, Shun Makabe. The chief problem with this is that Ranze's parents will not allow her to date a human - although there may be much more to Shun than meets the eye. On top of this, she also has a bitter rival in the pretty but spiteful Yoko Kamiya (the daughter of a yakuza boss) who also likes Shun and doesn't take kindly to Ranze's intruding on her turf.
Sound Effects Used
Image Gallery
Tokimeki Tonight/Image Gallery
Audio Samples