Wiki Targeted (Entertainment)
Play Sound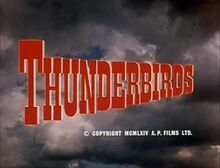 Storyline
Set between 2065 and 2067, Thunderbirds follows the exploits of the Tracy family, headed by American ex-astronaut turned multi-millionaire philanthropist Jeff Tracy. He is a widower with five adult sons: Scott, John, Virgil,Gordon and Alan. The Tracys form International Rescue (IR), a secret organization dedicated to saving human life. They are aided in this mission by technologically advanced land, sea, air and space vehicles, which are called into service when conventional rescue techniques prove ineffective. The most important of these are five machines named the "Thunderbirds", each assigned to one of the five Tracy brothers:
Thunderbird 1: a hypersonic rocket plane used for fast response and accident zone reconnaissance. Piloted by primary rescue co-ordinator Scott Tracy.
Thunderbird 2: a supersonic carrier aircraft that transports rescue vehicles and equipment to accident zones in detachable capsules known as "pods". Piloted by Virgil.
Thunderbird 3: a single-stage-to-orbit spacecraft. Piloted alternately by Alan and John, with Scott as co-pilot.
Thunderbird 4: a utility submersible. Piloted by Gordon and normally launched from Thunderbird 2.
Thunderbird 5: a space station that relays distress calls from around the world. Manned alternately by "space monitors" John and Alan.
TV Show Intro
Sound Effects Used
Original versions
Remastered versions only
Image Gallery
Audio Samples