Jurassic World: Dominion Dominates Fandom Wikis - The Loop
Play Sound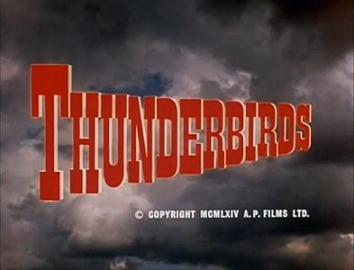 Thunderbirds is a British science fiction television series created by Gerry and Sylvia Anderson, filmed by their production company AP Films (APF) and distributed by ITC Entertainment. It was made between 1964 and 1966 using a form of electronic marionette puppetry (dubbed "Supermarionation") combined with scale model special effects sequences. Two series, totalling thirty-two 50-minute episodes, were filmed; production ended with the completion of the sixth episode of the second series after Lew Grade, the Andersons' financial backer, failed in his bid to sell the programme to American network television.
Set in the 2060s, Thunderbirds is a follow-up to the earlier Supermarionation productions Four Feather Falls, Supercar, Fireball XL5 and Stingray. It follows the exploits of International Rescue, a life-saving organisation equipped with technologically-advanced land, sea, air and space rescue craft; these are headed by a fleet of five vehicles named the Thunderbirds and launched from the organisation's secret base of operations in the Pacific Ocean. The main characters are ex-astronaut Jeff Tracy, leader of International Rescue, and his five adult sons, who pilot the Thunderbird machines.
Thunderbirds debuted in September 1965 on the ITV network. The series was exported to around 30 countries during the 1960s. Periodically repeated, it was adapted for radio in the 1990s and has influenced many TV programmes and other media. Besides tie-in merchandise, the series has been followed by two feature film sequels – Thunderbirds Are Go and Thunderbird 6 – as well as an anime adaptation, a mime theatre show and a live-action film. A remake series premiered in 2015; the same year, three new episodes, based on tie-in audio plays and made using the same techniques as the original series, were created to mark its 50th anniversary.
Storyline
Set between 2065 and 2067, Thunderbirds follows the exploits of the Tracy family, headed by American ex-astronaut turned multi-millionaire philanthropist Jeff Tracy. He is a widower with five adult sons: Scott, John, Virgil,Gordon and Alan. The Tracys form International Rescue (IR), a secret organization dedicated to saving human life. They are aided in this mission by technologically advanced land, sea, air and space vehicles, which are called into service when conventional rescue techniques prove ineffective. The most important of these are five machines named the "Thunderbirds", each assigned to one of the five Tracy brothers:
Thunderbird 1: a hypersonic rocket plane used for fast response and accident zone reconnaissance. Piloted by primary rescue co-ordinator Scott Tracy.
Thunderbird 2: a supersonic carrier aircraft that transports rescue vehicles and equipment to accident zones in detachable capsules known as "pods". Piloted by Virgil.
Thunderbird 3: a single-stage-to-orbit spacecraft. Piloted alternately by Alan and John, with Scott as co-pilot.
Thunderbird 4: a utility submersible. Piloted by Gordon and normally launched from Thunderbird 2.
Thunderbird 5: a space station that relays distress calls from around the world. Manned alternately by "space monitors" John and Alan.
TV Show Intro
Also See
Sound Effects Used
Original versions
Remastered versions only
Image Gallery
Thunderbirds (1965 TV Series)/Image Gallery
Audio Samples