watch 01:45
The Loop (Movies)
Play Sound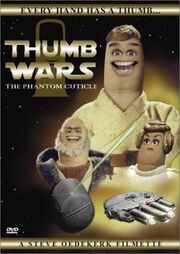 Thumb Wars: The Phantom Cuticle is a 1999 short film directed by Steve Oedekerk. Using dressed up and coifed thumbs as puppets, Oedekerk created a parody of Star Wars, with characters like Loke Groundrunner, Princess Bunhead, Oobeedoob Benubi, Hand Duet, Crunchaka, Beeboobeep, Prissypeo, Black Helmet Man and Gabba the Butt. Thumb Wars debuted on American television May 18, 1999, on UPN. It had its cable premiere on Cartoon Network on October 2, 2008 to promote the Clone Wars series that premiered the next day. The TV version provided a trimmed down version of the film. It was also re-released in 2002 alongside Thumbtanic as the Thumb Wars/Thumbtanic Thumb Double Feature on VHS and DVD. In 2005, the filmettes were again released together as a UMD Video on the PlayStation Portable system.
Storyline
Sound Effects Used
Image Gallery
Audio Samples
External Links
Community content is available under
CC-BY-SA
unless otherwise noted.