Line 22:
Line 22:
 
 
 

==Image Gallery==

 

==Image Gallery==

 
+

[[The VeggieTales Show/Image Gallery]]

 
 
 

==Audio Samples==

 

==Audio Samples==
---
Revision as of 00:49, 12 November 2020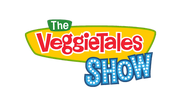 The VeggieTales Show (often marketed as simply VeggieTales) is a television series and a revival of the American Christian computer-animated franchise VeggieTales. The series is produced through the partnerships of TBN, NBCUniversal, Big Idea Entertainment, and Trilogy Animation, and premiered on October 22, 2019. The Sound Editorial Facility is Hugmonster Sound: Adam Frick is the Supervising Sound Editor, and Sarah Fink is the Foley Editor.
Synopsis
The show focuses on the VeggieTales characters putting on Broadway-style shows in Mr. Nezzer's theater that retell Bible stories and parody mainstream Pop-culture. Phil Vischer says the show will start with a question in the form of a letter from a kid, and then Bob and Larry will respond to that question by putting on a show. Bob the Tomato attempts to use the show to accomplish his dream of becoming the next Mister Rogers. According to Vischer, "the thing that drives Bob crazy is, when Mister Rogers does Mister Rogers, everything goes perfectly. Nothing ever goes wrong on Mister Rogers' Neighborhood, and Bob wants that for his show, but he can never achieve it." Each show would never go the way that Bob had initially planned, resulting in complete and total chaos.
Phil Vischer says "It's really all about Bob and Larry wanting to put on a show for kids. They want to teach things to kids. Bob wants to help kids; Larry wants to help Bob."
Most of the new episodes act out stories and lessons from the Bible. The show includes a nine-episode series about the fruit of the Spirit. There are also new adventures with LarryBoy and the League of Incredible Vegetables. According to Phil Vischer, the first season consists of 18 episodes in which Vischer wrote the first ten and Nawrocki wrote the last eight. The series provides VeggieTales content through 2021.
Also See
[[Jonah: A VeggieTales Movie (2002)]
TV Show Intro
Sound Effects Used
Image Gallery
The VeggieTales Show/Image Gallery
Audio Samples
External Links