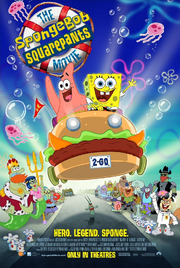 ​​​​​The SpongeBob SquarePants Movie is a 2004 American live-action/animated adventure comedy film based on the Nickelodeon animated television series SpongeBob SquarePants. The film was co-written, directed, and produced by series creator Stephen Hillenburg, with live-action sequences directed by Mark Osborne. It features the series' cast of Tom Kenny, Bill Fagerbakke, Clancy Brown, Rodger Bumpass and Mr. Lawrence, and also has new actors which include Alec Baldwin, David Hasselhoff as himself), Scarlett Johansson and Jeffrey Tambor. It is the first film in the SpongeBob SquarePants film series. In this film, Plankton devises a plan to discredit his business nemesis Mr. Krabs, steal the Krabby Patty secret formula and take over the world by stealing King Neptune's crown and framing Mr. Krabs for the crime. SpongeBob and Patrick team up to retrieve the crown from Shell City to save Mr. Krabs from Neptune's wrath and the oceanic world from Plankton's rule.
Previous offers by Paramount Pictures for a film adaptation of SpongeBob SquarePants had been rejected by Stephen Hillenburg, but he eventually accepted one offer in 2002. A writing team consisting of Hillenburg, Paul Tibbitt, Derek Drymon, Aaron Springer, Kent Osborne and Tim Hill was assembled, conceiving the idea of a mythical hero's quest and the search for a stolen crown, which would bring SpongeBob and Patrick to the surface. The film was originally intended as the series finale, but Nickelodeon ordered more episodes of the series as it had become increasingly profitable, so Hillenburg resigned as showrunner with Tibbitt taking his place.
The film was widely promoted by Paramount and Nickelodeon, with tie-in promotions made by 7-Eleven, the Cayman Islands, and Burger King, which decorated various of its franchises with 9-foot (2.7 m) SpongeBob inflatable figures. The film had its yellow-carpet premiere at the Grauman's Chinese Theater in Hollywood, California on November 14, 2004 and it was released in the United States on November 19, 2004. It grossing $140 million worldwide, and received generally positive reviews from critics. It was followed by two sequels, The SpongeBob Movie: Sponge Out of Water in 2015 and The SpongeBob Movie: Sponge on the Run in 2020.
Storyline
There's trouble brewing in Bikini Bottom. Someone has stolen King Neptune's crown, and it looks like Mr. Krabs, SpongeBob's boss, is the culprit. Though he has just been passed over for the promotion of his dreams, SpongeBob stands by his boss, and along with his best pal Patrick, set out on a treacherous mission to Shell City to reclaim the crown and save Mr. Krabs' life.
Also See
Movie Trailer
Sound Effects Used
Cartoon Network Cartoon Fall Sound/Hollywoodedge, Sky Rocket Loud High TE021701 (Heard while Spongebob and Patrick are falling in the trench after Mindy says "I never said that!")
HOMER'S BURP (Heard twice from Spongebob.)
Hollywoodedge, Big Single Gulps For CRT026802 (3rd gulp heard once from Spongebob.)
Hollywoodedge, Single Classic Wolf CRT012501/Sound Ideas, COYOTE - LONG HOWL, ANIMAL (Heard once as the camera pans through the monster-infested trench.)
Hollywoodedge, Wooden Blck Hits Raz CRT019402 (Used for Mr. Krab's footsteps.)
MICROPHONE FEEDBACK (Heard twice.)
Producer's Sound Effects Library "LIGHT BEAM #2." (Heard when King Neptune's baldness is revealed.)
Sound Ideas, AIRPLANE, PROP - LONG DIVE 02 (2nd half heard once in a high pitch as Spongebob and Patrick are launched downward toward the Krusty Krab.)
Sound Ideas, ANIMAL, HORSE - WHINNY AND NEIGH OUTSIDE VERSION 1/Sound Ideas, HORSE - SINGLE HORSE WHINNY, ANIMAL HORSES 01
Sound Ideas, ANIMAL, MONSTER - SEVERAL SCREAMS, CREATURE (Heard from a creature in trench.)
Sound Ideas, SPURT, CARTOON - OIL SPURT 01 (Used for Squidward's footsteps.)
Sound Ideas, SPURT, CARTOON - OIL SPURT 02 (Used for Squidward's footsteps.)
Taz Spin (Briefly heard.)
Other Audio Used
Image Gallery
See The SpongeBob SquarePants Movie (2004)/Image Gallery
Audio Samples
External Links
Community content is available under
CC-BY-SA
unless otherwise noted.