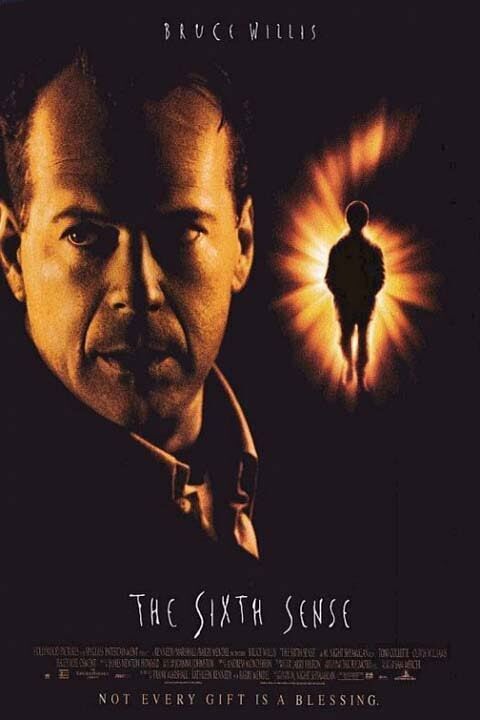 The Sixth Sense is a 1999 American supernatural horror thriller film written and directed by M. Night Shyamalan. The film tells the story of Cole Sear (Haley Joel Osment), a boy who is able to see and talk to the dead, and Malcolm Crowe (Bruce Willis), a child psychologist who tries to help him. The film established Shyamalan as a writer and director, and introduced the cinema public to his traits, most notably his affinity for surprise endings.
Released by Hollywood Pictures on August 6, 1999, the film was well-received by critics; praise was given to its acting performances (particularly Willis, Osment, and Toni Collette), atmosphere, and twist conclusion. The Sixth Sense was the second-highest-grossing film of 1999 (behind Star Wars: Episode I – The Phantom Menace), taking about $293 million in the US and $379 million in other markets. This made it the highest-grossing horror film (in unadjusted dollars) until 2017, when it was surpassed by It.
The film was nominated for six Academy Awards, including Best Picture, Best Director and Best Original Screenplay for Shyamalan, Best Supporting Actor for Osment, and Best Supporting Actress for Collette.
Storyline
Young Cole Sear (Haley Joel Osment) is haunted by a dark secret: he is visited by ghosts. Cole is frightened by visitations from those with unresolved problems who appear from the shadows. He is too afraid to tell anyone about his anguish, except child psychologist Dr. Malcolm Crowe (Bruce Willis). As Dr. Crowe tries to uncover the truth about Cole's supernatural abilities, the consequences for client and therapist are a jolt that awakens them both to something unexplainable.
Sound Effects Used
Image Gallery
Audio Samples
External Links