Doctor Strange in The Multiverse o Madness - The Loop
Play Sound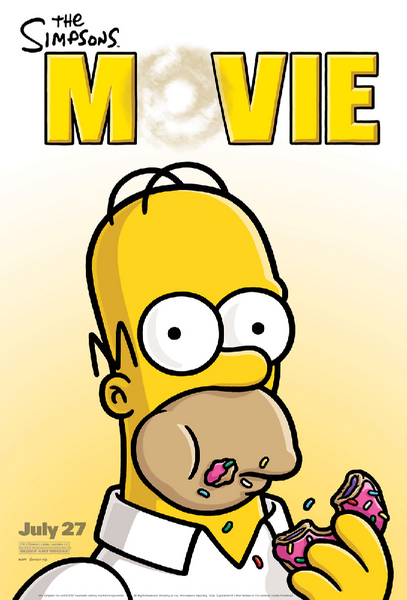 The Simpsons Movie is a 2007 American animated comedy film based on the long-running animated sitcom The Simpsons. The film was directed by David Silverman and stars the regular television cast of Dan Castellaneta, Julie Kavner, Nancy Cartwright, Yeardley Smith, Hank Azaria, Harry Shearer, Tress MacNeille, Pamela Hayden, Russi Taylor, and Albert Brooks. The film follows Homer Simpson, who irresponsibly pollutes the lake in Springfield, causing the Environmental Protection Agency to imprison the town under a dome. After he and his family escape, they ultimately abandon Homer for his selfishness and return to Springfield to prevent the town's destruction by Russ Cargill, head of the EPA. Homer works to redeem his folly by returning to Springfield himself in an effort to save it.
Although previous attempts to create a Simpsons film had been made, they failed due to the lack of lengthy script and production crew members. Eventually in 2001, producers James L. Brooks, Matt Groening, Al Jean, Mike Scully and Richard Sakai began development of the film and a writing team was assembled consisting of the show's most prolific writers, including Brooks, Groening, Jean, Scully, Ian Maxtone-Graham, George Meyer, David Mirkin, Mike Reiss, Matt Selman, John Swartzwelder and Jon Vitti. They conceived numerous plot ideas, with Groening's being the one adapted. The script was rewritten over a hundred times, also continuing after work on the animation began in 2006. Consequently, an hour and a half of finished material was cut from the final release, including cameo roles from Erin Brockovich, Minnie Driver, Isla Fisher, Kelsey Grammer and Edward Norton. Tom Hanks and the members of Green Day voice their own animated counterparts in the final cut of the film, while Albert Brooks, a frequent guest performer on the series, provides the voice of its main antagonist, Russ Cargill.
Tie-in promotions were made with several companies to promote the film's release, including Burger King and 7-Eleven, the latter of which transformed selected stores into Kwik-E-Marts. The film premiered in Springfield, Vermont on July 21, 2007 and was released theatrically six days later by 20th Century Fox across the United States. The Simpsons Movie received positive reviews and grossed $536.4 million worldwide, became the eighth highest-grossing film of 2007, the second highest-grossing traditionally animated film (behind Disney's The Lion King), and the highest-ever grossing film based on an animated television series. The film was nominated for numerous awards, including a Golden Globe Award for Best Animated Feature Film at the 65th Golden Globe Awards. A second film is currently in development as of 2018.
Storyline
After Homer pollutes the town's water supply, Springfield is encased in a gigantic dome by the EPA and the Simpsons are declared fugitives.
Sound Effects Used
Image Gallery
Audio Samples