Doctor Strange in The Multiverse o Madness - The Loop
Play Sound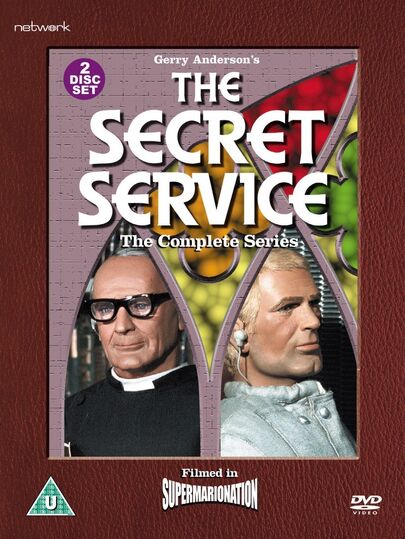 The Secret Service is a 1969 British science fiction television series created by Gerry and Sylvia Anderson and filmed by their production company, Century 21, for ITC Entertainment. It follows the exploits of Father Stanley Unwin, a puppet character voiced by (and modelled on) the comedian of the same name. Outwardly an eccentric Christian vicar, Unwin is secretly an agent of BISHOP, a division of British Intelligence countering criminal and terrorist threats. Assisted by fellow agent Matthew Harding, Unwin's missions involve frequent use of the Minimiser, a device capable of shrinking people and objects to facilitate covert operations. In hostile situations, the Father spouts a form of gibberish (based on the real Unwin's nonsense language, "Unwinese") to distract the enemy.
The Secret Service was the last Anderson series to be made using a form of electronic marionette puppetry called "Supermarionation". This technique was combined with scale model effects sequences and – uniquely for an Anderson puppet series – extensive footage of live actors in long shot. The move towards non-puppet live action was influenced by Gerry Anderson, who wanted to increase the realism of Supermarionation. Filming began in August 1968 and ended with the completion of the thirteenth episode in January 1969 after Lew Grade, Century 21's owner and financial backer, responded negatively to a test screening and cancelled the rest of the production, believing that the inclusion of Unwinese had made it impossible to sell the series to the American market.
The series was transmitted on three of the ITV network's regional franchises and has not been repeated since 1975. Critical response has been mixed, with verdicts ranging from the Andersons' "forgotten gem" to their "one flop". Commentators have questioned the wisdom of hiring Unwin, arguing that his gibberish had too little comic value to sustain viewer interest. However, the series has been praised for the writing of its supporting characters. The Secret Service was Gerry Anderson's final puppet series until Terrahawks in the 1980s.
Storyline
The adventures of an elderly vicar and his gardener, secret agents for B.I.S.H.O.P, who combat criminals and terrorists from overseas in the year 1969.
Sound Effects Used
Image Gallery
The Secret Service/Image Gallery
Audio Samples