Obi-Wan Finale - The Loop
Play Sound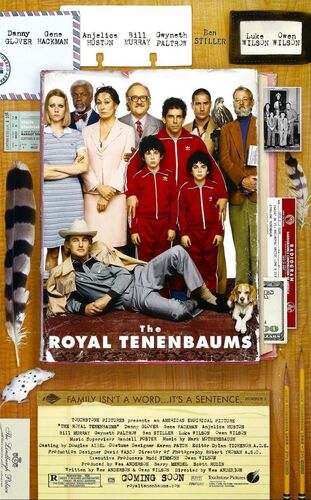 The Royal Tenenbaums is a 2001 American comedy-drama film directed by Wes Anderson and co-written with Owen Wilson. It stars Danny Glover, Gene Hackman, Anjelica Huston, Bill Murray, Gwyneth Paltrow, Ben Stiller, Luke Wilson, and Owen Wilson. Ostensibly based on a nonexistent novel, and told with a narrative influenced by the writing of J. D. Salinger, it follows the lives of three gifted siblings who experience great success in youth, and even greater disappointment and failure in adulthood. The children's eccentric father Royal Tenenbaum (Hackman) leaves them in their adolescent years, then returns to them after they have grown, falsely claiming he has a terminal illness. He works on reconciling with his children and ex-wife (Huston).
With a variety of influences, including Louis Malle's 1963 film The Fire Within and Orson Welles' 1942 film The Magnificent Ambersons, the story involves themes of the dysfunctional family, lost greatness, and redemption. An absurdist and ironic sense of humor pervades the film, which features a soundtrack subsequently released in two albums.
The Royal Tenenbaums was shot in and around New York City, including a house in Harlem used for the Tenenbaum residence. The filmmakers went to efforts to distinguish the film's backgrounds from a recognizable New York, with fashions and sets combining the appearances of different time periods.
After debuting at the New York Film Festival, The Royal Tenenbaums received positive reviews from critics and was Anderson's most financially successful film until 2014's The Grand Budapest Hotel. Hackman won a Golden Globe for his performance, and the screenwriters were nominated for the Academy Award for Best Original Screenplay. In 2016, it was included in BBC's 100 Greatest Films of the 21st Century.
Storyline
The eccentric members of a dysfunctional family reluctantly gather under the same roof for various reasons.
Sound Effects Used
Image Gallery
Audio Samples