Doctor Strange in The Multiverse o Madness - The Loop
Play Sound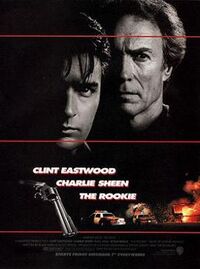 The Rookie is a 1990 American buddy cop action film directed by Clint Eastwood and produced by Howard G. Kazanjian, Steven Siebert and David Valdes. It was written from a screenplay conceived by Boaz Yakin and Scott Spiegel. The film stars Charlie Sheen, Clint Eastwood, Raul Julia, Sônia Braga, Lara Flynn Boyle, and Tom Skerritt. Eastwood plays a veteran police officer teamed up with a younger detective played by Sheen (the rookie), whose intent is to take down a German crime lord in downtown Los Angeles, following months of investigation into an exotic car theft ring.
Shot entirely on location in California during the spring of 1990, the film is distinctly remembered for its elaborate pyrotechnics and extravagant stunt work. The film crew's reliance on expensive sets and elaborate stunt equipment outweighed the need for utilizing extensive CGI special effects during production. Because of this, it is generally considered the most over-the-top film directed by Eastwood.
The Rookie premiered in theaters nationwide in the United States and Canada on December 7, 1990, grossing $21,633,874 in ticket receipts, just over twice its budget of $10 million. The film was overshadowed by the continuing success of Home Alone, which opened in theaters three weeks earlier and ended up being one of the top 100 highest-grossing films of all time. Although considered a mild financial success, The Rookie was met with generally lackluster reviews. Critics considered it formulaic and shallow, and expressed bewilderment at the casting of the Puerto Rican Julia and the Brazilian Braga as Germans; a scene in which Eastwood is raped by Braga also generated some controversy. There was, however, some praise for the stunts and special effects.
Storyline
Sound Effects Used
Image Gallery
Audio Samples
External Links