Jurassic World: Dominion Dominates Fandom Wikis - The Loop
Play Sound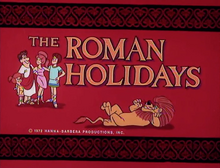 The Roman Holidays is a 30-minute Saturday morning animated series produced by Hanna-Barbera Productions and broadcast on NBC from September 9, 1972 to December 2, 1972. It ran for 13 episodes before being cancelled, and reruns were later shown on the USA Cartoon Express during the 1980s.
Plot
Very similar in theme to both The Flintstones and The Jetsons, The Roman Holidays brought a look at "modern-day" life in Ancient Rome, around 63 AD (with a 1970s touch), as seen through the eyes of Augustus "Gus" Holiday and his family. The opening showed a chariot traffic jam and a TV showing football on Channel "IV" (NBC was seen on TV Channel 4 in cities like New York City, Los Angeles, Detroit, San Antonio and Boston). An Ancient Roman setting was actually one of the ideas that Hanna-Barbera considered as they were working to create The Flintstones.
Gus, his wife Laurie, their daughter Precocia (Voiced by Pamelyn Ferdin, and who, despite being the youngest of the family, is very intellectual) and their teen-aged son Happius (nicknamed "Hap") reside in the Venus de Milo Arms, run by their landlord Mr. Evictus who excites Gus's tagline "Evictus will evict us!". Gus works for a bossy supervisor named Mr. Tycoonius at the Forum Construction Company. After a hard day's marble lifting, he was greeted by the Holidays' pet, a lion named Brutus (who sounded a bit like Snagglepuss, being voiced by Daws Butler using a "Bert Lahl" voice). Rounding out the cast is Hap's girlfriend, Groovia. Like many Hanna-Barbera series produced in the 1970s, the show was given a laugh track.
Sound Effects Used
Image Gallery