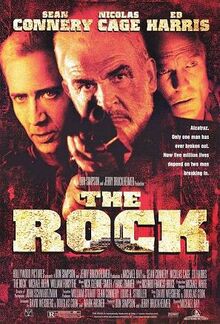 Storyline
FBI chemical warfare expert Stanley Goodspeed (Nicolas Cage) is sent on an urgent mission with a former British spy, John Patrick Mason (Sean Connery), to stop Gen. Francis X. Hummel (Ed Harris) from launching chemical weapons on Alcatraz Island into San Francisco. Gen. Hummel demands $100 million in war reparations to be paid to the families of slain servicemen who died on covert operations. After their SEAL team is wiped out, Stanley and John deal with the soldiers on their own.
Sound Effects Used
Sound Ideas, AIRPLANE, JET - MILITARY FIGHTER JET: PASS BY 02
Sound Ideas, EXPLOSION - LARGE BLAST 02 (Universal Studios)
Sound Ideas, EXTERIOR SHOTS, AUTO WEAPONS - AK-47 01
Sound Ideas, BATTLE, MILITARY - MILITARY BATTLE AMBIENCE: GUNFIRE, EXPLOSIONS
Sound Ideas, GUN, HANDGUN - PISTOL SHOTS WITH SILENCER, MORE WHIZZY (Used as a ricochet)
Hollywoodedge, Ar15 Automatic Rifle PE093401
Hollywoodedge, Bullet Bounces Off Fr PE114901 (Heard in a low pitch.)
Hollywoodedge, Bullet Impacts Multi PE113301
Hollywoodedge, Crash Metal Shatter PE110101
Hollywoodedge, Crash Metal Shatter PE110201
Hollywoodedge, Crash Metal Shatter PE110401
Hollywoodedge, Elevator Bell DingsL PE192801
Hollywoodedge, Explosion Large Shar PE097801
Hollywoodedge, Glass Crashes Large W TE023101
Hollywoodedge, Glass Falls Heavy FS027504
Hollywoodedge, Machine Gun Silence PE1010701
Hollywoodedge, Machine Gun Silence PE1103601
Hollywoodedge, Multiple Single Bull PE236501
Hollywoodedge, Single Bullet Impact PE236401
Hollywoodedge, Sm Heavy Metal Door Sl PE185001
Hollywoodedge, Swish Small Glass Cra PE112801
Hollywoodedge, Telephone Rg Dual Ton PE170301
GEORGE WATTERS II EXPLOSION 01
GEORGE WATTERS II MACHINE GUN 01
GEORGE WATTERS II PISTOL SHOT 01
SKYWALKER, CAR - VEHICLE HORN, 4 TIMES
SKYWALKER, EXPLOSION - EXPLOSIVE RICOCHET, HIGH RICCO, EXPLOSION ACCENT
SKYWALKER, METAL - HUMAN BODY IMPACT ON METAL
Image Gallery
Audio Samples
External Links
Community content is available under
CC-BY-SA
unless otherwise noted.