Doctor Strange in The Multiverse o Madness - The Loop
Play Sound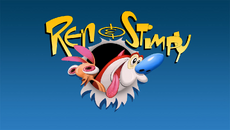 The Ren & Stimpy Show is a cartoon TV series from controversial creator John Kricfalusi, produced by Spümcø and Games Animation for Nickelodeon.
Regarding sound design, the Post Production Services from Seasons 1-2, excluding the pilot "Big House Blues", was Horta Editorial & Sound (folded currently into Hacienda Post); Supervising [Picture] Editor/Re-Recording Mixer Timothy J. Borquez was one of the uncredited sound designers. Sound Editors also featured Bill Keane and Michael Geisler. Debra O'Connor was a foley artist; Harry Andronis and Cecilia Perna recorded the foley.
The Ren & Stimpy Show was already a ground-breaking phenomnon in animation, but the approach to cartoon sound design by Timothy J. Borquez and his team at Horta Editorial was just as unique. As Timothy J. Borquez put it, The Ren & Stimpy Show "became a laboratory for using classic sounds (in different contextual situations); adding Foley and new design to create "hybrid" textures and moments. We conscientiously did this and it opened up a whole new world for us! A lot of this was done on the mix stage." [1]
In Seasons 3-5, Games Animation ceased from using Horta Editorial (which was involved on 2 of Games' projects, Hey Arnold! and Rocko's Modern Life) and moved to a smaller, lesser-known sound studio, Digital Audio Design, which went uncredited on the series. Brian Mendelshon served as the post production sound supervisor, foley editor, and mixer for those seasons, and Mark J. Uribe was the Sound FX Editor.
Storyline
The series centers on Ren Höek, a short-tempered, "asthma-hound" chihuahua, and Stimpson J. "Stimpy" Cat, a three-year-old dimwitted and happy-go-lucky cat. The duo fill various roles from episode to episode, including outer space explorers, Old West horse thieves, and nature-show hosts, and are usually at odds with each other in these situations. While the show was sometimes set in the present day, the show's crew tended to avoid "contemporary" jokes about current events. The show extensively features off-color and absurdist humor, and slapstick.
The show features a host of supporting characters. Some appear only in one episode, while others recur and occasionally appear in different roles like Powdered Toast Man. They may either be part of the storyline, or make cameo appearances with little bearing on the plot. Some, such as Mr. Horse, are exclusively cameo-based, spontaneously appearing as a running gag.
Also See
TV Show Intro
Sound Effects Used
Other Audio Used
Image Gallery
Audio Samples
External Links