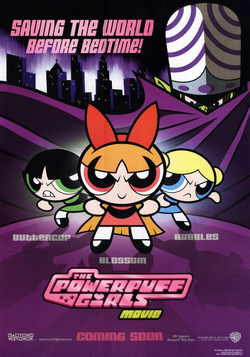 The Powerpuff Girls Movie is a 2002 animated film based on Cartoon Network's animated series of the same name produced by Cartoon Network Studios and released by Warner Bros. Pictures on July 3, 2002, plus the Dexter's Laboratory short film "Chicken Scratch" accompanied attached to the movie. The Sound Creation and Design was by Joel Valentine, who also served as Sound Effects Supervisor/Sound Editor; Debra Mason and Jonathan McPherson performed the foley, recorded by Steve Worely. As with the series, Twenty-First Century Entertainment served as the post-production sound service for namely "Sound Effects Editorial and Design". Hacienda Post provided Post Production Sound Services for the final mix including editorial adjustments; Timothy J. Borquez, MPSE served there as the Post Production Sound Supervisor and mixed the film with Eric Freeman, which was recorded by Allen Hurd. In the series, all of Twenty First-Century Entertainment's creatives were uncredited in Joel Valentine's favor, and Hacienda Post's Re-recording Mixers were the only Hacienda staff credited, but it was different for the movie.
Storyline
Professor Utonium attempts to create "the perfect little girl", but Mojo Jojo forced him to add Chemical X, "thus The Powerpuff Girls were born." The girls are rejected by the citizens of Townsville because of their destructive super powers. Then, Mojo, also a victim of Chemical X, attempts to find use for the girls, but they don't know of his intentions.
Also See
Movie Trailer
Sound Effects Used
Image Gallery
Audio Samples
External Links
Community content is available under
CC-BY-SA
unless otherwise noted.