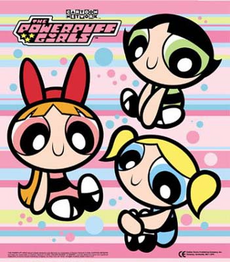 The Powerpuff Girls is a TV Series created for Cartoon Network by Craig McCracken. The post-production sound services for the first 6 seasons was provided by Twenty First-Century Entertainment, Inc. (the sound designer/sound editor was Joel Valentine, who preferred to be credited only as his company name for "Sound Editing") and Hacienda Post, mixed by Timothy J. Borquez (usually with Eric Freeman). Borquez's team first mixed at Horta Editorial & Sound and also at Pacific Sound Group, SPG Studios and Digital Soundworks. Hacienda's uncredited sound editor was probably Roy Braverman. By the 7th season (otherwise known as reboot season 1), Hacienda Post currently took over all post-production sound including sound design & foley.
Storyline
The straight-laced Prof. Utonium's attempt to create perfect little girls accidentally includes "Chemical X", resulting in take-charge red-head Blossom, blonde sweety-pie Bubbles and ready-to-fight brunette Buttercup. These flying, super-strong, rarate-chopping girls with the occasional heat vision race into action to save the city of Townsville (and, we're told, the world) from all sorts of crimes and creatures.
Also See
The Powerpuff Girls (2016 TV Series) (the "reboot")
TV Show Intro
Sound Effects Used
Image Gallery
The Powerpuff Girls/Image Gallery
Audio Samples
External Links
Community content is available under
CC-BY-SA
unless otherwise noted.