Jurassic World: Dominion Dominates Fandom Wikis - The Loop
Play Sound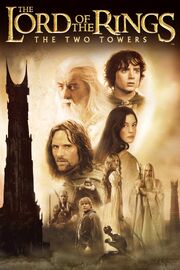 The Lord of the Rings: The Two Towers is a 2002 epic fantasy adventure film directed by Peter Jackson, based on the second volume of J. R. R. Tolkien's The Lord of the Rings. The film is the second instalment in The Lord of the Rings trilogy and was produced by Barrie M. Osborne, Fran Walsh and Jackson, and written by Walsh, Philippa Boyens, Stephen Sinclair and Jackson. The film features an ensemble cast including Elijah Wood, Ian McKellen, Liv Tyler, Viggo Mortensen, Sean Astin, Cate Blanchett, John Rhys-Davies, Bernard Hill, Christopher Lee, Billy Boyd, Dominic Monaghan, Orlando Bloom, Hugo Weaving, Miranda Otto, David Wenham, Brad Dourif, Karl Urban and Andy Serkis. It was preceded by The Fellowship of the Ring and followed by The Return of the King.
Continuing the plot of The Fellowship of the Ring, the film intercuts three storylines. Frodo and Sam continue their journey towards Mordor to destroy the One Ring, meeting and joined by Gollum, the ring's former owner. Aragorn, Legolas, and Gimli come to the war-torn nation of Rohan and are reunited with the resurrected Gandalf, before fighting at the Battle of Helm's Deep. Merry and Pippin escape capture, meet Treebeard the Ent, and help to plan an attack on Isengard.
The Two Towers was financed and distributed by American studio New Line Cinema, but filmed and edited entirely in Jackson's native New Zealand, concurrently with the other two parts of the trilogy. Released on December 18, 2002, the film was highly acclaimed by critics and fans alike, who considered it to be a landmark in filmmaking and an achievement in the fantasy film genre. It has grossed over $926 million worldwide, making it the highest-grossing film of 2002 and the 4th highest-grossing film of all time at the time of its release.
The Two Towers is widely regarded as one of the greatest and most influential fantasy films ever made. The film won many awards, including being nominated for six Oscars at the 75th Academy Awards ceremony, of which it won two, for Best Sound Editing and Best Visual Effects.
Storyline
Sound Effects Used
Image Gallery
Audio Samples
Also See
External Links