Wiki Targeted (Entertainment)
Play Sound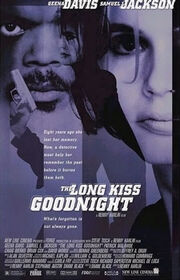 Storyline
Schoolteacher and single mother Samantha Caine (Geena Davis) lives an average suburban life -- until she begins having strange memories of unexplained violence and discovers that she has physical skills that she never imagined. Hiring private detective Mitch Hennessey (Samuel L. Jackson) to probe into her past, Samantha discovers that she's a well-trained government assassin who went missing after suffering a bout of amnesia and that her former handlers want her back in their employ.
Sound Effects Used
Sound Ideas, AUTO, FORD MUSTANG - EXT - START, IDLE, DRIVE AT FAST SPEED, STOP, SHUT OFF
Sound Ideas, ELECTRICITY, SPARK - HIGH VOLTAGE SPARK, ELECTRICAL 03
Sound Ideas, EXTERIOR SHOTS, SPECIAL WEAPONS - .44 MAXI PUMA KAPOW WITH TRAIL
Sound Ideas, GUN, HAND GUN - AUTOMATIC PISTOL: SINGLE SHOT 02
Sound Ideas, GUN, SHELL - SINGLE SHELL FALL, CONCRETE 01 (Heard in a high pitch.)
Sound Ideas, Super Jets Overhead 04 - Spacecraft fly-overs
Sound Ideas, TRUCK HORN, AIR - AIR HORN, PASSES BY, DOPPLER EFFECT FORD
Hollywoodedge, 22357 Magnum Fire Clo TE029501 (2nd and 3rd gunshots used.)
Hollywoodedge, 357 Magnum Pistol Sho PE092801
Hollywoodedge, 357 Magnum Pistol Sho PE093001
Hollywoodedge, Crash Metal Glass PE110801
Hollywoodedge, Crash Metal Shatter PE110401
Hollywoodedge, Explosion 1 Medium Si PE097501
Hollywoodedge, Explosion Big Spark SDT026001
Hollywoodedge, Lincoln Town Car In Sk PE073501
Hollywoodedge, Lightning 08 CloseG SIG012601
Hollywoodedge, Machine Gun Silence PE1010701
Hollywoodedge, Machine Gun Silence PE1103601
Hollywoodedge, Quick Pistol Cock PE090501
Hollywoodedge, Single Bullet Impact PE236401
Hollywoodedge, Whistling Wind Mediu PE032901 or Hollywoodedge, Wind Cold Whistle BT022801
RICOCHET - LONG DESCENDING SHELL SCREAM RICCO
SKYWALKER GLASS, SMASH - LARGE WINDOW CRASH 02
SKYWALKER, WHOOSH - ARTILLERY FALL 01
Image Gallery
Audio Samples
External Links
Community content is available under
CC-BY-SA
unless otherwise noted.