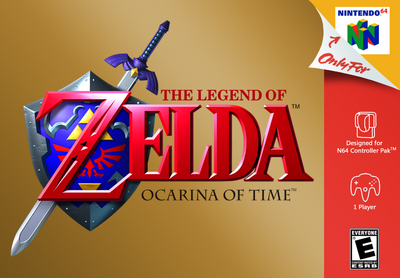 The Legend of Zelda: Ocarina of Time is a video game developed and published by Nintendo. It was released for the Nintendo 64 in 1998, then for the Nintendo GameCube and iQue Player in 2003, and a Virtual Console version was later released in 2007. A remake for the 3DS was released in 2011 which uses nearly all of the same sound effects.
Also See
Sound Effects Used
Note: Many of these sounds were reused in the game's sequel, Majora's Mask, as both games run on the same engine.
Image Gallery
Audio Samples
The very low pitched version of BIRD, BLUE JAY - SINGLE CALLS, ANIMAL 01, as heard in the game:
The edited versions of CARTOON, FANTASY - MAGIC FANTASY MUSIC, LONG/SHORT, BELLS, as heard in the game:
The edited version of HUMAN, SCREAM - SCREAM: FEMALE, HORROR 03, as heard in the game:
Community content is available under
CC-BY-SA
unless otherwise noted.