We're Getting Mutants in the MCU - The Loop
Play Sound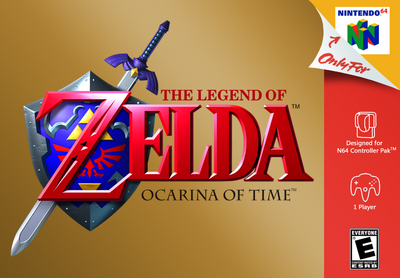 The Legend of Zelda: Ocarina of Time is an action-adventure game developed and published by Nintendo for the Nintendo 64. It was released in Japan and North America in November 1998, and in PAL regions the following month. Ocarina of Time is the first game in The Legend of Zelda series with 3D graphics.
It was developed by Nintendo EAD, led by five directors including Eiji Aonuma and Yoshiaki Koizumi, produced by series co-creator Shigeru Miyamoto, and written by Kensuke Tanabe. Veteran Zelda series composer Koji Kondo created the musical score. The player controls Link in the fantasy land of Hyrule on a quest to stop the evil king Ganondorf, by traveling through time and navigating dungeons and an overworld. The game introduced features such as a target-lock system and context-sensitive buttons that have since become common in 3D adventure games. The player must learn to play numerous songs on an ocarina to progress.
Ocarina of Time received widespread acclaim from critics and consumers and won several awards and accolades, who praised its visuals, sound, gameplay, soundtrack, and writing. It has been ranked by numerous publications as the greatest video game of all time, and is the highest-rated game of all time on the review aggregator Metacritic. It was commercially successful, with more than seven million copies sold worldwide. In the United States, it received more than three times more pre-orders than any other video game at the time, and was the best-selling game of 1998 in the country.
A direct sequel, The Legend of Zelda: Majora's Mask, was released in 2000. Ocarina of Time has been re-released on every one of Nintendo's home consoles since and on the iQue Player in China. An enhanced version of the game for the Nintendo 3DS, The Legend of Zelda: Ocarina of Time 3D, was released in 2011. Master Quest, an alternative version of the game including new puzzles and increased difficulty, is included in one of the GameCube releases and the 3D version.
Sound Effects Used
Note: Many of these sounds were reused in the game's sequel, Majora's Mask, as both games run on the same engine.
Image Gallery
The Legend of Zelda: Ocarina of Time/Image Gallery
Audio Samples
The very low pitched version of BIRD, BLUE JAY - SINGLE CALLS, ANIMAL 01, as heard in the game:
The edited versions of CARTOON, FANTASY - MAGIC FANTASY MUSIC, LONG/SHORT, BELLS, as heard in the game:
The edited version of HUMAN, SCREAM - SCREAM: FEMALE, HORROR 03, as heard in the game:
WIND - EERIE WIND, WEATHER, as heard in the game:
The distorted version of THUNDER - THUNDER CLAP AND RUMBLE, WEATHER 01, as heard in the game: