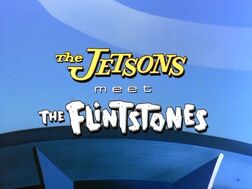 The Jetsons Meet The Flintstones is a 1987 animated TV movie originally produced as part of Hanna-Barbera Superstars 10. As the title suggests, it is a crossover between The Flintstones and The Jetsons.
Storyline
Fred Flintstone and George Jetson have some things in common: They have back breaking jobs and families to support, but they soon find out a little more about one another one peculiar day when George Jetson's son Elroy builds a time machine, the family thinks it a joke but agrees to try it out anyway. It was built to take them further into the future, but instead (thanks to Astro) they get sent back to Prehistorica Days. Back to the town of Bedrock. On vacation, Fred and Wilma Flintstone, Barney and Betty Rubble, meet the Jetsons and think them to be beings from another universe. Fred passes George off as his cousin and all goes well, until the time machine accidentally transports the Flintstones into the future, so while the Flintstones and Rubbles adjust to a space-age, robotic, automatic life, the Jetsons have to adjust to a rocky, stony, pedal car, no-shoe, no picture-phone, no-Mr. Spacely stone-age life. Meanwhile, Henry Orbit and Rosie have built a new time machine and Rosie goes off to find the Jetsons, she meets Robin Hood and many other famous faces. Will the Jetsons ever see their space city again? Will the Flintstones ever see Bedrock again? Will Fred keep his job with Mr. Spacely? Will Barney keep his job with Mr. Cogswell? Could be! Maybe so, maybe no.
Movie Trailer
Sound Effects Used
Image Gallery
Community content is available under
CC-BY-SA
unless otherwise noted.