Jurassic World: Dominion Dominates Fandom Wikis - The Loop
Play Sound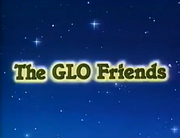 The Glo Friends is an American television series that originally aired in 1986 as a segment of My Little Pony 'n Friends. It was produced by Sunbow Productions and Marvel Productions in collaboration with Toei Animation, the 26 segments of Glo Friends played in rotation as a secondary series, alternating with MoonDreamers and Potato Head Kids. Glow Friends was later broadcast on the (CBN) Family Channel from 1989 to 1995 as part of the My Little Pony rebroadcast.
The television series was preceded by the Glo Friends toyline: small glow-in-the-dark toys in the shape of insects and other small creatures. The toys were adapted from the original Glo Worm introduced in 1982 by the Playskool division of Hasbro. A line of books from Ladybird Books were published to accompany each Glo Friend.
The Post Production Sound Services was provided by Saturday Morning Incorporated. Michael L. DePatie serves as a sound effects editor. John Hart serves as a dubbing supervisor.
Storyline
The title protagonists in The Glo Friends were a community of small, glow-in-the-dark bugs that live in Glo Land, a magical kingdom located in the middle of a forest. Their homes are built near the Glo Pond, where the Friends harvest a substance known as Moondrops, which enables their ability to glow in the dark.
The peaceful existence of the Friends is constantly threatened by the Moligans, a group of mole-like creatures led by Starnose. The Moligans were banished from the kingdom of Moleslavia for various crimes including unlawful digging, robbery, and cheating. Since their banishment, the Moligans have been living underground and plotting revenge. The short-sighted Moligans endeavor to kidnap the Glo Friends in order to light the dark tunnels of their mining operations, and thereby extracting more gold.
Also See
TV Show Intro
Sound Effects Used
Image Gallery
Audio Samples
External Links