Jurassic World: Dominion Dominates Fandom Wikis - The Loop
Play Sound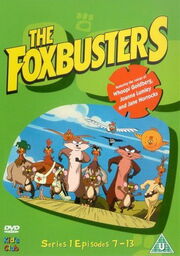 The Foxbusters is a British animation very loosely based on the Dick King-Smith book The Foxbusters. It was made by Cosgrove Hall and consists of two series of thirteen 11-minute episodes each, made between 1999 and 2000. The show was co-written by the animation partnership of David Max Freedman and Alan Gilbey, and occasionally with Joel Jessup as a third writer. It was directed by Jon Doyle.
The show is primarily set on Foxearth Farm, a fictional farm based in the English countryside in the West Midlands, which is dominated by a variety of animals, particularly the chickens. The Foxbusters are three chickens, Ransome, Sims, and Jeffries, who have the unlikely ability to fly. Each has a different personality; Ransome is the best flyer, Sims is the smartest and Jeffries is the comic relief. The Foxbusters also have the ability to spit grit like machine guns, and drop hard-boiled eggs like they were bombs - and these are used to effect among other methods to keep the hungry pack of foxes in Foxearth Forest at bay.
The arguments and conversations between the chickens make an effective comedy. The foxes have the attempts to get the better of the chickens are usually unsuccessful, but they add a lot of humor to the show, as much as the chickens do, and nonetheless incredibly creative. The show itself is laden with gags and action, and is of quality,
Which led to its receiving two major awards in 2000, The show won two major awards in 2000: a BAFTA for 'Best Animated Series' and the other was from the British Animation Awards for 'Best Children's Series'.
Despite being a critical success, the show did not enjoy the same level of commercial success as some of its competitors and ended in 2000 after just two series. While not seeing much commercial success upon release, In spite of this and in more recent years the show and the series is still fondly remembered by fans and has picked up a cult following, particularly in furry fandom.
Storyline
Sound Effects Used
Image Gallery
Audio Samples