Jurassic World: Dominion Dominates Fandom Wikis - The Loop
Play Sound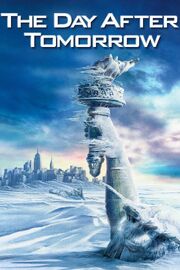 The Day After Tomorrow is a 2004 American science fiction disaster film co-written, directed, and produced by Roland Emmerich and starring Dennis Quaid, Jake Gyllenhaal, Ian Holm, Emmy Rossum, and Sela Ward. It is based on the book The Coming Global Superstorm by Art Bell and Whitley Strieber. The film depicts catastrophic climatic effects following the disruption of the North Atlantic Ocean circulation in a series of extreme weather events that usher in global cooling and lead to a new ice age.
Originally slated for release in the summer of 2003, The Day After Tomorrow premiered in Mexico City on May 17, 2004, and was released in the United States on May 28, 2004. A major commercial success, the film became the sixth highest-grossing film of 2004. Filmed in Toronto and Montreal, it is the highest-grossing Hollywood film made in Canada (adjusted for inflation). It received mixed reviews upon release, with critics highly praising the film's special effects but criticizing its writing and numerous scientific inaccuracies.
Storyline
After climatologist Jack Hall (Dennis Quaid) is largely ignored by U.N. officials when presenting his environmental concerns, his research proves true when an enormous "superstorm" develops, setting off catastrophic natural disasters throughout the world. Trying to get to his son, Sam (Jake Gyllenhaal), who is trapped in New York with his friend Laura (Emmy Rossum) and others, Jack and his crew must travel by foot from Philadelphia, braving the elements, to get to Sam before it's too late.
Also See
Movie Trailer
Sound Effects Used
Image Gallery
Audio Samples
External Links