Cobra Kai Season 4 - The Loop
Play Sound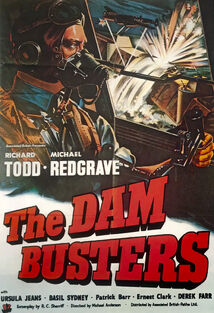 The Dam Busters is a 1955 British epic war film starring Richard Todd and Michael Redgrave. It was directed by Michael Anderson. The film recreates the true story of Operation Chastise when in 1943 the RAF's 617 Squadron attacked the Möhne, Eder, and Sorpe dams in Nazi Germany with Barnes Wallis's bouncing bomb.
The film was based on the books The Dam Busters by Paul Brickhill and Enemy Coast Ahead (1946) by Guy Gibson. The film's reflective last minutes convey the poignant mix of emotions felt by the characters – triumph over striking a successful blow against the enemy's industrial base is tempered by the sobering knowledge that many died in the process of delivering it.
The film was widely praised and became the most popular motion picture at British cinemas in 1955. In 1999, the British Film Institute voted The Dam Busters the 68th greatest British film of the 20th century. Its depiction of the raid, along with a similar sequence in the film 633 Squadron, provided the inspiration for the Death Star trench run in Star Wars: Episode IV - A New Hope (1977).
Storyline
In early 1942, aeronautical engineer Barnes Wallis is struggling to develop a means of attacking Germany's dams in the hope of crippling German heavy industry. Working for the Ministry of Aircraft Production, as well as his own job at Vickers, he works feverishly to make practical his theory of a bouncing bomb which would skip over the water to avoid protective torpedo nets. When it hit the dam, backspin would make it sink whilst retaining contact with the wall, making the explosion far more destructive. Wallis calculates that the aircraft will have to fly extremely low (150 feet (46 m)) to enable the bombs to skip over the water correctly, but when he takes his conclusions to the Ministry, he is told that lack of production capacity means they cannot go ahead with his proposals.
Angry and frustrated, Wallis secures an interview with Sir Arthur "Bomber" Harris (played by Basil Sydney), the head of RAF Bomber Command, who at first is reluctant to take the idea seriously. Eventually, however, he is convinced and takes the idea to the Prime Minister, who authorises the project.
Bomber Command forms a special squadron of Lancaster bombers, 617 Squadron, to be commanded by Wing Commander Guy Gibson, and tasked to fly the mission. He recruits experienced crews, especially those with low-altitude flight experience. While they train for the mission, Wallis continues his development of the bomb but has problems, such as the bomb breaking apart upon hitting the water. This requires the drop altitude to be reduced to 60 feet (18 m). With only a few weeks to go, he succeeds in fixing the problems and the mission can go ahead.
The bombers attack the dams. Eight Lancasters and their crews are lost, but two dams are breached and the overall mission succeeds.
Sound Effects Used
Image Gallery
Audio Samples
External Links