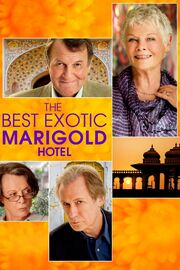 The Best Exotic Marigold Hotel is a 2011 British comedy-drama film directed by John Madden. The screenplay, written by Ol Parker, is based on the 2004 novel These Foolish Things, by Deborah Moggach, and features an ensemble cast consisting of Judi Dench, Celia Imrie, Bill Nighy, Ronald Pickup, Maggie Smith, Tom Wilkinson and Penelope Wilton, as a group of British pensioners moving to a retirement hotel in India, run by the young and eager Sonny, played by Dev Patel. The movie was produced by Participant Media and Blueprint Pictures on a budget of $10 million.
Producers Graham Broadbent and Peter Czernin first saw the potential for a film in Deborah Moggach's novel with the idea of exploring the lives of the elderly beyond what one would expect of their age group. With the assistance of screenwriter Ol Parker, they came up with a script in which they take the older characters completely out of their element and involve them in a romantic comedy.
Principal photography began on 10 October 2010 in India, and most of the filming took place in the Indian state of Rajasthan, including the cities of Jaipur and Udaipur. Ravla Khempur, an equestrian hotel which was originally the palace of a tribal chieftain in the village of Khempur, was chosen as the site for the film hotel.
The film was released in the United Kingdom on 24 February 2012 and received mild critical acclaim; The Best Exotic Marigold Hotel opened to strong box-office business in the United Kingdom and continued to build worldwide. It became a surprise box-office hit following its international release, eventually grossing nearly $137 million worldwide.
It was ranked among the highest-grossing 2012 releases in Australia, New Zealand and the United Kingdom, and as one of the highest-grossing speciality releases of the year. A sequel, The Second Best Exotic Marigold Hotel, began production in India in January 2014, and was released on 26 February 2015.
Storyline
Also See
Movie Trailer
Sound Effects Used
Image Gallery
Audio Samples
External Links
Community content is available under
CC-BY-SA
unless otherwise noted.