She-Hulk Trailer Dropped - The Loop
Play Sound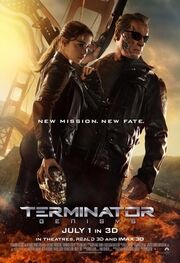 Terminator Genisys is a 2015 American science fiction action film directed by Alan Taylor, and written by Laeta Kalogridis and Patrick Lussier. The film is a soft reboot of the Terminator film series, taking the basic story of the original film in another direction. It stars Arnold Schwarzenegger, who reprises his role as the Terminator, alongside Jason Clarke, Emilia Clarke, Jai Courtney, J. K. Simmons, Dayo Okeniyi, Matt Smith, Courtney B. Vance, and Lee Byung-hun. It follows Kyle Reese, a soldier in a post-apocalyptic future with a war against the machines led by Skynet, who is sent from 2029 to 1984 by John Connor, leader of the Human Resistance, to protect his mother Sarah. When Kyle arrives in the past, he discovers that the timeline has been altered, and Sarah has been raised by a reprogrammed Terminator.
Megan Ellison and her production company Annapurna Pictures acquired the rights in May 2011. The following year, production of another installment in the series was set up in collaboration with Skydance Productions, owned by Ellison's brother David. The Ellisons consulted Terminator creator James Cameron in the hope of returning to the spirit of The Terminator (1984) and its sequel Terminator 2: Judgment Day (1991). Principal photography was primarily in New Orleans, with some in the on-screen setting of San Francisco. Six companies handled the film's visual effects, with its prosthetic make-up and animatronics created by Legacy Effects.
The film was released by Paramount Pictures on July 1, 2015, in RealD 3D and IMAX 3D. It was not well-received by critics, who found its story and most of the performances unsatisfactory, although Schwarzenegger's return and performance were praised. Terminator Genisys grossed over $440 million worldwide, making it the second-highest-grossing film of the series, and of Schwarzenegger's career, behind Terminator 2: Judgment Day.
Though Terminator Genisys was originally planned as the first film of a new trilogy, it was announced in 2017 that the next film, Terminator: Dark Fate, would serve as a direct sequel to Terminator 2: Judgment Day and disregards all other Terminator works as occurring in alternate timelines following the return of creative control to James Cameron.
Storyline
When John Connor (Jason Clarke), leader of the human resistance against Skynet, sends Kyle Reese (Jai Courtney) back to 1984 to protect his mother, Sarah (Emilia Clarke), from a Terminator assassin, an unexpected turn of events creates an altered timeline. Instead of a scared waitress, Sarah is a skilled fighter and has a Terminator guardian (Arnold Schwarzenegger) by her side. Faced with unlikely allies and dangerous new enemies, Reese sets out on an unexpected new mission: reset the future.
Also See
Sound Effects Used
Image Gallery
Audio Samples
External Links