Spider-Man: No Way Home Trailer Dropped - The Loop
Play Sound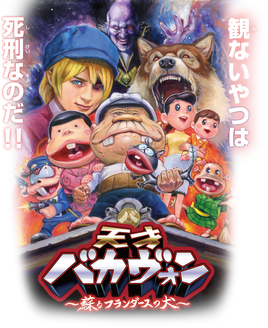 Tensai Bakavon: Yomigaeru Flanders no Inu (天才バカヴォン ~蘇るフランダースの犬~, The Genius Bakavon: The Revival of a Dog of Flanders) is a Japanese animated family adventure film inspired by A Dog of Flanders and Tensai Bakabon.
Release Date
Storyline
One day, a suspicious men appear one after another under the Bakabon family. Its true identity is the dark organization Intelliperi. They want to know "Bakabon's Papa's real name", which is the slogan for activating the device "Omega" developed by General Manager Dante, and he approaches dad in every way, but he is just tossed by dad and his real name at all. I can't find out.
So Dante summons Nello and Patrasche, the main characters of "Dog of Flanders", from hell to find out his real name from his son Bakabon.
What is the fate of Bakabon targeted? And what is Bakabon's Papa's real name? An unprecedented battle begins between the Genius Bakabon, the dark organization, and a Dog of Flanders.
Also See
A Dog of Flanders (1975 TV Series)
Movie Trailer
Sound Effects Used
Image Gallery
Audio Samples