Jurassic World: Dominion Dominates Fandom Wikis - The Loop
Play Sound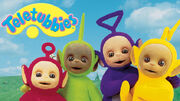 Teletubbies is a British children's television series created by Anne Wood and Andrew Davenport for the BBC. The programme focuses on four differently coloured characters known as "Teletubbies", named after the television screens on their bellies. Recognised throughout popular culture for the uniquely shaped antenna protruding from the head of each character, the Teletubbies communicate through gibberish and were designed to bear resemblance to toddlers.
The series rapidly became a commercial success in Britain and abroad. It won multiple BAFTA awards and was nominated for two Daytime Emmys throughout its run. A single based on the show's theme song reached number 1 in the UK Singles Chart in December 1997 and remained in the Top 75 for 32 weeks, selling over a million copies. By October 2000, the franchise generated over £1 billion ($1.6 billion) in merchandise sales.
Though the original run ended in 2001, a rebooted series was green-lit in 2014. The reboot premiered on CBeebies in the United Kingdom and on the Nick Jr. Channel in the United States. Re-runs of the original 1997–2001 series continue to be shown on television channels worldwide.
The original series returned to live TV in the US on Pluto TV on 1 May 2019, but the episodes are shown in the UK format instead of the US format. The same error occurred with the series' availability on the Noggin app since 25 May 2016.
Storyline
In this television show for children ages 0-7, the four colorful Teletubbies coo and play in idyllic Teletubbyland and in the Home Dome with Noo-Noo. They repeat fun, infant-pleasing activities such as rolling on the ground, laughing, running about, Eating tubby toast and tubby custard and watching real children on the televisions on their bellies. Mysterious pinwheels and telephones rise out of the meadow to loosely direct the day's activities. The sun, featuring a baby's face, comments on the proceedings with baby noises, and it rises and sets to begin and end the show.
See Also
TV Show Intro
Sound Effects Used
Image Gallery
List by Episode
Audio Samples
External Links