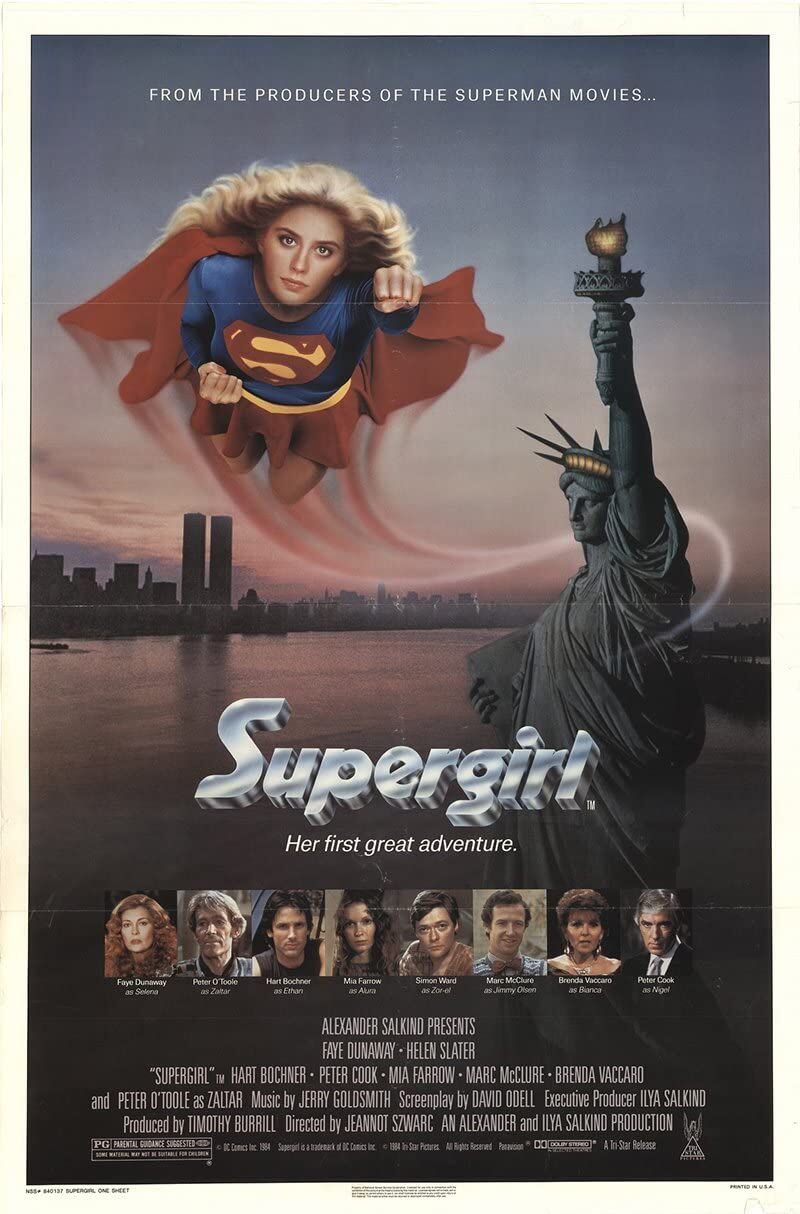 Supergirl is a 1984 superhero film directed by Jeannot Szwarc and written by David Odell. Based on the DC Comics character of the same name, it is a spin-off from Alexander and Ilya Salkind's Superman film series. The film stars Helen Slater as Supergirl, along with Faye Dunaway, Mia Farrow, and Peter O'Toole, with Marc McClure reprising his role as Jimmy Olsen from the Superman films. He was the only actor to do so.
The film is set after the events of Superman III while Superman is on a peacekeeping mission millions of light years from earth.
The film was released in the United Kingdom on 19 July 1984, but failed to impress critics and audiences alike. Dunaway and O'Toole earned Golden Raspberry Award nominations for Worst Actress and Worst Actor, respectively. However, Slater was nominated for a Saturn Award for Best Actress. The film's failure ultimately led the Salkinds to sell the Superman rights to Cannon Films in 1986. Its first DVD release was by the independent home video company Anchor Bay Entertainment in 2000, under license from then-rights holder StudioCanal. Warner Bros. acquired the rights to the film and reissued it on DVD late in 2006 to coincide with the release of Superman Returns. Although it is canon with the Christopher Reeve/Brandon Routh Superman films, it is not included in any of the Superman DVD or Blu-ray box sets by Warner Bros.
A book adaptation of the film was written by Norma Fox Mazer and released in paperback form in 1984.
Storyline
Also See
Movie Trailer
Sound Effects Used
Image Gallery
Audio Samples
External Links