Doctor Strange in The Multiverse o Madness - The Loop
Play Sound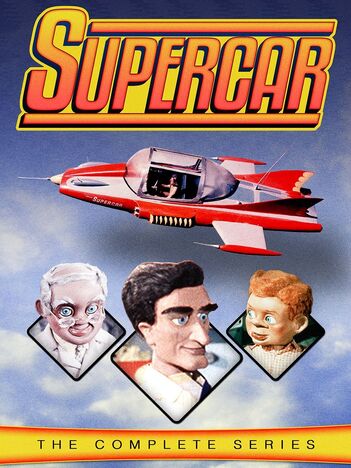 Supercar is a British children's TV show produced by Gerry Anderson and Arthur Provis' AP Films for ATV and ITC Entertainment. Thirty-nine episodes were produced between 1961 and 1962, and it was Anderson's first half-hour series. In the UK it was seen on ITV, in Canada on the CBC, and in the US in syndication (the first Anderson series to be shown overseas) debuting in January 1962. The series uses Supermarionation, based on the complex and difficult Czech style of marionette puppetry. The creation of the show was credited to Gerry Anderson and Reg Hill, but it incorporates elements of Beaker's Bureau, a series proposed to the BBC by Hugh Woodhouse that was never produced. Anderson would later claim that the whole point of having a series based on a vehicle was to minimize having to show the marionettes walking, an action which he felt never looked convincing.
The plot of the show centred around Supercar, a vertical-takeoff-and-landing craft invented by Prof. Rudolph Popkiss and Dr. Horatio Beaker, and piloted by Mike Mercury. On land it rode on a cushion of air rather than wheels. Jets in the rear allowed it to fly like a jet and retractable wings were incorporated in the back of the car. Retrorockets on the side of the car slowed the vehicle. The car used "Clear-Vu", which included an inside television monitor allowing the occupant to see through fog and smoke. The vehicle was housed in a laboratory and living facility at Black Rock, Nevada, U.S.A. In the show's first episode, "Rescue", the Supercar crew's first mission is to save the passengers of a downed private plane. Two of the rescued, young Jimmy Gibson and his pet monkey, Mitch, are invited to live at the facility and share in the adventures.
The series inaugurated what became an Anderson trademark: the launch sequence. With the exception of The Secret Service, all of his series until Terrahawks included these – in Supercar's case, the charging and firing of port and starboard engines, the activation of an interlock, the opening of (overhead) hangar doors, and finally the vertical take-off.
Storyline
The adventures of the crew of Supercar, an amazing land, sea, and air vehicle, based at a secret laboratory in the Nevada Desert in 1961.
Sound Effects Used
Image Gallery
Audio Samples