She-Hulk Trailer Dropped - The Loop
Play Sound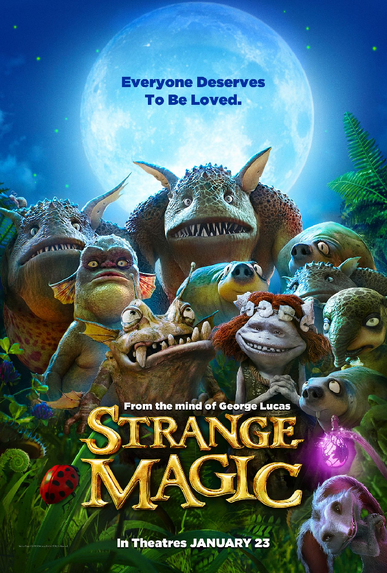 Strange Magic is a 2015 American computer-animated jukebox musical fantasy film directed by Gary Rydstrom and produced by Lucasfilm, with feature animation by Lucasfilm Animation and Industrial Light & Magic. The film's screenplay was written by Rydstrom, David Berenbaum and Irene Mecchi, from a story by George Lucas inspired by William Shakespeare's A Midsummer Night's Dream. The film stars Alan Cumming, Evan Rachel Wood, Kristin Chenoweth, Maya Rudolph, Sam Palladio, and Alfred Molina. The score was composed by Marius de Vries and includes contemporary songs, such as "Love Is Strange" and "Strange Magic".
Lucas had been working on developing the project for 15 years before production began. It was his first writing credit since the 1994 film Radioland Murders that is not associated with the Star Wars or Indiana Jones franchises. The film was released in the United States on January 23, 2015 by Touchstone Pictures, making it the first Lucasfilm production to be distributed by Walt Disney Studios Motion Pictures, following their parent company's acquisition of the studio on December 21, 2012. The film was panned by most critics, who criticised its script, humor and songs but praised its animation, and was a box-office bomb, grossing $13.6 million worldwide and losing around $40–50 million. To date, it is the only Lucasfilm Animation production that is not part of the Star Wars franchise.
Skywalker Sound provided Post-Production Sound Services: E.J. Holowicki is the sound designer; Steve Slanec is the Supervising Sound Editor; Chris Barron is the Assistant Supervising Sound Editor; Roy Waldspurger, Teresa Eckton and Kyrsten Mate are the Effects Editors; Qianbaihui Yang & Dmitri Makarov are Assistant Effects Editors and Jon Borland Assistant Sound Editor. The foley artists are uncredited and to be announced.
Storyline
Goblins, elves, fairies and imps, and their misadventures sparked by the battle over a powerful potion.
Movie Trailer
Sound Effects Used
Image Gallery
Strange Magic (2015)/Image Gallery
Audio Samples