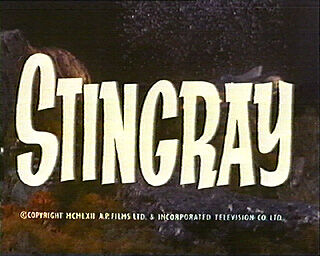 Stingray is a British science-fiction television series created by Gerry and Sylvia Anderson and produced by AP Films (APF) for ITC Entertainment. Filmed in 1963 using a combination of electronic marionette puppetry and scale model special effects, it was APF's sixth puppet series and the third to be produced under the banner of "Supermarionation". It premiered in October 1964 and ran for 39 half-hour episodes.
Set in the 2060s, the series follows the exploits of the World Aquanaut Security Patrol (WASP), an organisation responsible for policing the Earth's oceans. The WASP's flagship is Stingray, a combat submarine crewed by Captain Troy Tempest, navigator Lieutenant "Phones" and Marina, a mute young woman from under the sea. Stingray's adventures bring it into contact with various underwater civilisations, some friendly and others hostile, as well as strange natural phenomena.
In preparation for the series, APF acquired new, larger studios that it would continue to occupy for the remainder of the 1960s. Filmed at a cost of approximately £1 million, Stingray was the first British TV series to be made entirely in colour, a move intended to increase its appeal to the lucrative American market. The underwater sequences were filmed "dry" by shooting the sets through thin aquaria, while surface shots were filmed on water tanks incorporating lowered back walls to create artificial horizons. Stingray was the first Supermarionation series whose puppet characters had interchangeable heads showing a range of facial expressions.
Stingray was originally broadcast on the ITV network in the United Kingdom and in syndication in North America. The series has drawn a largely positive response from commentators, some of whom have compared its premise to the Cold War.
Storyline
The World Aquanaut Security Patrol (WASPs) explored the oceans and kept the world safe from a variety of perils. The WASPs' main weapon was Stingray, a super-sub under the command of Troy Tempest. Troy's copilot was Phones, and they were often joined on missions by Marina, a princess of the undersea kingdom of Pacifica. Marina could breathe under water, but was unable to speak. In charge of the WASPs was gruff Commander Shore, whose daughter Atlanta was both a member of his staff and Marina's rival for Troy's affection.
Sound Effects Used
Image Gallery
Audio Samples
External Links