Doctor Strange in The Multiverse o Madness - The Loop
Play Sound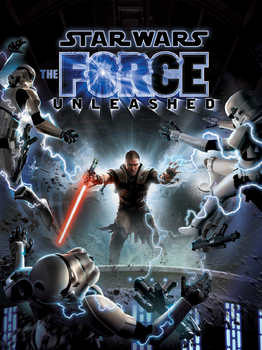 Star Wars: The Force Unleashed is an action-adventure game developed by LucasArts and part of The Force Unleashed multimedia project. It was initially developed for the PlayStation 2, PlayStation 3, Wii, and Xbox 360 consoles and on iOS, second-generation N-Gage, Nintendo DS, PlayStation Portable, and Java-equipped mobile phone handhelds. The game was released in North America on September 16, 2008, in Australia and Southeast Asia on September 17, and in Europe on September 19. LucasArts released downloadable content for the PlayStation 3 and Xbox 360 consoles. An Ultimate Sith Edition of the game, containing both new and previously released downloadable content, was released in November 2009, and later ported to the macOS and Microsoft Windows.
The project bridges the first two Star Wars trilogies, acting as an origin story for both the united Rebel Alliance and the Galactic Civil War depicted in the original trilogy. The game introduces a new protagonist named "Starkiller", a powerful Force user trained as Darth Vader's secret apprentice, who is tasked with hunting down Jedi survivors of the Great Jedi Purge while trying to keep his existence a secret. However, after he is tasked with planting the seeds of what would become the Rebel Alliance, which Vader plans to take advantage of to overthrow the Emperor, Starkiller begins to question his own morality and to slowly redeem himself. Following Disney's acquisition of Lucasfilm in 2012, the game became part of the non-canonical Star Wars Expanded Universe (also known as Star Wars Legends), and an alternative origin for the Rebel Alliance and the Galactic Civil War was given in other pieces of Star Wars media.
Star Wars: The Force Unleashed received generally mixed to positive reviews from critics, with praise for its story, voice acting, physics, art and soundtrack, but criticism for its linear gameplay and technical issues. The game was a bestseller in the United States and Australia, with over one million copies sold its debut month. As of February 2010, the game had sold over seven million copies, and was the fastest-selling Star Wars video game of its time.A sequel, Star Wars: The Force Unleashed II, was released in October 2010.
Storyline
Also See
Sound Effects Used
Image Gallery
Audio Samples
External Links