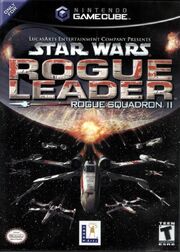 Star Wars: Rogue Squadron II: Rogue Leader (also known as Star Wars: Rogue Leader – Rogue Squadron II) is an action game co-developed by Factor 5 and LucasArts and is the second of three games in the Rogue Squadron series, it was published by LucasArts and released as a launch title for the GameCube in North America on November 9, 2001 and Europe on May 3, 2002.
Set in the fictional Star Wars galaxy, the game spans all three original trilogy Star Wars films. The player controls either Luke Skywalker or Wedge Antilles. As the game progresses, Skywalker, Antilles and the Rebel Alliance fight the Galactic Empire in ten missions across various planets.
Storyline
Also See
Sound Effects Used
Image Gallery
Audio Samples
External Links
Community content is available under
CC-BY-SA
unless otherwise noted.