Spider-Man: No Way Home Trailer Dropped - The Loop
Play Sound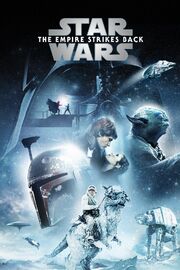 Star Wars: Episode V - The Empire Strikes Back is a movie released in 1980. It was the second Star Wars movie and fifth episode in the Star Wars Saga.
Ben Burtt served as Sound Design and Supervising Sound Effects Editor, and Randy Thom contributed in Sound Effects Recording; both contributed to the film's then small sound design and editorial facility, Skywalker Sound (which at that point was growing and soon to be given its first name, "Sprocket Systems"). Edward M. Steidele and John Roesch served as foley assistants to the uncredited foley artist Gary A. Hecker. The original re-recording was at Samuel Goldwyn Studios. For the 1997 Special Edition & 2004 Edition, Sound Designer Ben Burtt and Sound Editor Teresa Eckton reprised their original roles on the film. Tim Fox served as an archivist for the 1997 edition; Sean England was the Audio Archivist for the 2004 version. Matthew Wood joined as Supervising Sound Editor for the 2004 & 2011 editions; Jamie Forester was Skywalker Sound's Post Production Supervisor for the 2004 edition.
Storyline
After the Rebels are brutally overpowered by the Empire on the ice planet Hoth, Luke Skywalker begins Jedi training with Yoda, while his friends are pursued by Darth Vader and a bounty hunter named Boba Fett all over the galaxy.
Also See
Movie Trailer
Sound Effects Used
Image Gallery
Audio Samples
Sound Ideas, WIND - BLAST, MODULATION & HOWL, WEATHER as heard in the film when Luke is sucked out of a window by heavy wind during his lightsaber fight against Vader.