Star Trek Into Darkness is a 2013 American 3D science fiction adventure film, it is a sequel to Star Trek (2009). It was released in theaters on May 17, 2013, by Paramount Pictures.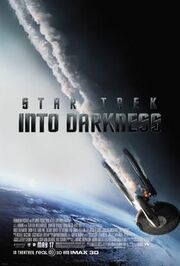 Storyline 
Sound Effects Used
SoundDogs, Guns Military, Battles - Small - Unusual Explosions - Use For Land Mines, Phosphorus Bombs Or Electrical Explosions. (Heard once during the armed torpedoes exploding.)
Sound Ideas, ELECTRICITY, SPARK - HIGH VOLTAGE SPARK, ELECTRICAL 02 (Heard once in -12 pitch when the torpedoes begin to explode)
Sound Ideas, CARTOON, SIREN - OLD POLICE, FIRE OR AMBULANCE SIREN (Only the ascending part of the siren is used, in low quality)
Image Gallery
Audio Samples
Also See
External Links
Community content is available under
CC-BY-SA
unless otherwise noted.