Cobra Kai Season 4 - The Loop
Play Sound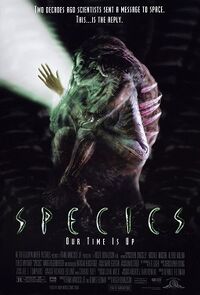 Species is a 1995 American science fiction horror film directed by Roger Donaldson and written by Dennis Feldman. It stars Natasha Henstridge (in her film debut role), Ben Kingsley, Michael Madsen, Alfred Molina, Forest Whitaker and Marg Helgenberger. The film's plot concerns a motley crew of scientists and government agents who try to track down Sil (Henstridge), a seductive extraterrestrial-human hybrid, before she successfully mates with a human male.
The film was conceived by Feldman in 1987, and was originally pitched as a film treatment in the style of a police procedural, entitled The Message. When The Message failed to attract the studios, Feldman re-wrote it as a spec script, which ultimately led to the making of the film. The extraterrestrial aspect of Sil's character was created by H. R. Giger, who also responsible for the beings from the Alien franchise. The effects combined practical models designed by Giger collaborator Steve Johnson and XFX, with computer-generated imagery done by Richard Edlund's Boss Film Studios. Giger felt that the film and the character were too similar to Alien, so he pushed for script changes.
Most of the principal photography was done in Los Angeles, California, where the film is set. Several scenes were filmed in Utah and at the Arecibo Observatory in Puerto Rico. The film was met with mixed reviews from critics, but nevertheless turned out to be a box office success, partly due to the hype surrounding Henstridge's topless scenes in various tabloid newspapers and lad mags of the time, grossing US$113 million ($190 million in 2019 dollars). It spawned a franchise, which includes one theatrical sequel (Species II), as well as two direct-to-television sequels (Species III and Species: The Awakening). Species was adapted into a novel by Yvonne Navarro and two comic book series by Dark Horse Comics, one of which was written by Feldman.
Storyline
Also See
Species II (1998)

Species III (2004)

Species: The Awakening (2007)
Movie Trailer
Sound Effects Used
Image Gallery
Audio Samples
External Links