She-Hulk Trailer Dropped - The Loop
Play Sound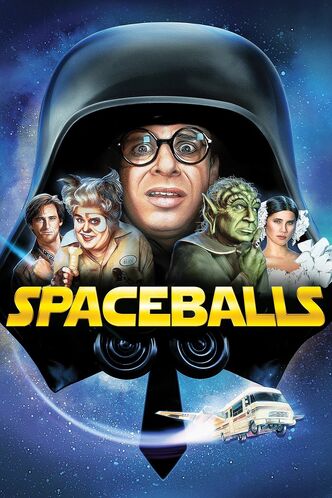 Spaceballs is a 1987 American space opera parody film co-written, produced and directed by Mel Brooks. It is primarily a parody of the original Star Wars trilogy, but also parodies other sci-fi films and popular franchises including Star Trek, Alien, The Wizard of Oz, 2001, and the Planet of the Apes. The film stars Bill Pullman, John Candy and Rick Moranis, with the supporting cast comprising Daphne Zuniga, Dick Van Patten, George Wyner, Lorene Yarnell, and the voice of Joan Rivers. In addition to Brooks playing a dual role, the film also features Brooks regulars Dom DeLuise and Rudy De Luca in cameo appearances.
In Spaceballs, heroic mercenary Lone Starr (Pullman) and his alien sidekick Barf (Candy) rescue Princess Vespa (Daphne Zuniga) of Druidia and her droid, Dot Matrix (Yarnell, voiced by Rivers), from being captured by the Spaceballs, led by President Skroob (Brooks), who want to use Vespa as ransom to obtain Druidia's air for their own planet. However, the heroes get stranded on a desert moon, where they encounter the wise Yogurt (also Brooks), who teaches Starr about the metaphysical power known as "the Schwartz". Meanwhile, Spaceball commanders Dark Helmet (Moranis) and Colonel Sandurz (Wyner) lead the search for them, but are hindered by their own incompetence.
The film was released by Metro-Goldwyn-Mayer on June 24, 1987. Despite initially getting a mixed reception from critics and audiences, it has since become a cult classic, and is now one of Brooks's most popular and well-known films.
Storyline
A star-pilot for hire and his trusty sidekick must come to the rescue of a princess and save Planet Druidia from the clutches of the evil Spaceballs.
Sound Effects Used
SKYWALKER, SPACECRAFT - SPACECRAFT PASS BY 01
Image Gallery
Audio Samples
External Links