Cobra Kai Season 4 - The Loop
Play Sound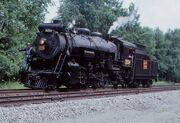 This sound effect can be found on The General Series 6000 Sound Effects Library, which was made by Sound Ideas. An identical copy of this sound effect, Sound Ideas, WHISTLE, STEAM - WHISTLE BLOWING FROM A STEAM TRAIN 02, can be found on The Mix I Broadcast Music Library.
Info
First recorded: October 4, 1987
Creator: N/A
Owner: Sound Ideas (1992-present)
Origin: Steamtown National Historic Site in Scranton, Pennsylvania
Year debut: April 16, 1988
First heard: Technological Threat
Area used: Worldwide
The whistle heard is a fouled Canadian National 5 chime step-top steam whistle, once owned by Canadian National S1b class 2-8-2 Mikado steam locomotive #3254 in the 1980s. Eventually, it would get replaced by a better tuned whistle. The site where the sound effect was recorded is probably Steamtown National Historic Site in Scranton, Pennsylvania, as it was the place the locomotive operated at.
Clean, Full Length and Unedited Link to the Sound Effect
Used In
TV Shows
Movies
Home Video Series
Mighty Machines

(Heard once in "At the Train Yard".)
Home Videos
Video Games
PC:
Lionel Trains Presents: Trans Con!

Need for Speed: High Stakes

(Used for the steam locomotive on the Kindiak Park route)

Sid Meier's Railroads!
PlayStation:
PlayStation 2:
PlayStation 3:
Xbox:
Harry Potter and the Prisoner of Azkaban (2004) (Video Game)

(Used as the Hogwarts Express' whistle.)
Xbox 360:
GameCube:
Wii:
3DS:
Wii U:
Mario Kart 8 (Used for the train in the N64 Rainbow Road track.)
Nintendo Switch:
Android/IOS:
Brave Train (Used as Legendary's Whitsle.)
Trollface Quest: Video Memes (Heard once in level 12.)
Unsorted:
Monopoly Millionairies Club
Shorts
Music
Britney Spears - Oops!...I Did It Again (2000)

(The 1st whistle is used during the spoken-word bridge.)

Jim Johnston - Gonna Punch Someone Tonight (2007)

Kastytis Kerbedis - Sustok, Traukiny

Tom Hanks - Hot Chocolate

(Heard twice.)
Audiobooks
The Polar Express (1985)

(Heard twice in the Liam Neeson narration.)
Promos
ABC Family 25 Days of Christmas (2010)
Bumpers
USA Network Cartoon Express (1991)
Trailers
Miscellaneous
Brainpop Jr. Annie and Moby Video Series

Crayola: Vehicle Mixer

Choo-Choo (Read Aloud)

FAO Schwarz Train Set Motorized with Sound 30pc

Fisher-Price - E-Z Play Railway Motorized Steam Engine

Toy Story 3: Daycare Dash

VTech Roll & Surprise Animal Train
Theme Parks
The High in the Sky Seuss Trolley Train Ride

Magic Kingdom Welcome Show

(Heard until January 9, 2017.)
YouTube Videos
Aiden Andrews (Heard once in a normal pitch in Apostrophe the movie part 65, train whistles that were used as stock sound effects, and in a high pitch trainz 2009 railfanning with dubbed audio part 1 and Apostrophe the movie part 69.)

amtrak 2022 productions

Fast Freight Productions

JuegaGerman

JulianTrainKid 2021 Productions

MajorEngineStudios

MrConductorFan1406

Mundo Gaturro Web Toons

(Heard once in "La Busqueda del Tesoro".)
SML Videos (Heard once in "Bowser Junior Pierces His Nose".)

SPdaylight4449 YES booba NO

Super Foxy Railway Productions
Anime
Fullmetal Alchemist: The Sacred Star of Milos (2011)

Night Raid 1931

Pani Poni Dash! (1st whistle)
Pikachu's Vacation (Used in various pitches when Charizard blows fire out.)
Image Gallery
Audio Samples