Jurassic World: Dominion Dominates Fandom Wikis - The Loop
Play Sound
This sound effect can be found on The General Series 6000 Sound Effects Library, which was made by Sound Ideas. It is similar to Sound Ideas, HUMAN, BABY - CHILD CRYING, 2 MONTHS OLD BABY, HUMAN, DIGIFFECTS from Human Sound Effects by Digiffects - Series I.
Info
First recorded: 1991
Creator: Brian Nimens
Owner: Sound Ideas (1992-present)
Origin: United States and Canada
Year debut: October 22, 1991
First heard: God Bless the Child (a Law & Order episode)
Area used: Worldwide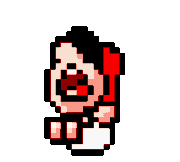 Trivia
This is one of many sounds that TV Tropes collectively refers to as "Most Annoying Sound". The page itself even has a picture of Baby Mario in a bubble crying, due to it being heavily used in the Super Nintendo game Super Mario World 2: Yoshi's Island. It's still being used as of today, among other baby crying sounds.
Clean, Full Length and Unedited Link to the Sound Effect
Used In
TV Shows
AAAHH!!! Real Monsters (Heard once in a normal pitch in the intro; and once in a high pitch in "This is Your Brain on Ickis".)

Air Crash Investigation

(Heard twice in "Miracle Landing".)
All That (Heard once in "Soul 4 Real" in a Loud Librarian sketch.)
The Amazing Adrenalini Brothers (Heard once in "Bones of Disbelief".)
The Amazing World of Gumball (Heard once in "The Slide" and "The Girlfriend".)
America's Funniest Home Videos (Heard once in the first episode of Season 21.)
Angela Anaconda (Used for Baby Lulu when she cries in "Cloak and Dagger" and "The Dog Ate It".)
Apple & Onion (Used for a baby marshmallow when he cries in "Champion".)
Atomic Betty (Heard in "Who's the Baby Now?" and "The Future is Now!".)
Barney & Friends (Heard once in "Room for Everyone" and "The One and Only You".)
Bill Nye, the Science Guy (Heard in "Life Cycles".)
Blue's Clues (Heard thrice in the US version of "What's That Sound?"; and just the whining where the babies from the baby hospital in "The Baby's Here!".)
Bubble Guppies (Heard once in "Bubble Baby!" and "Super Baby!".)

Cadfael

Casualty (Season 22 only; heard in 5 episodes including "Behind Closed Doors".)
Chowder (Heard once in "The Belgian Waffle Slobber-Barker" along with BABY CRYING, Hollywoodedge, Baby Crying Slowly PE144001, and Sound Ideas, CARTOON, CRY - BABY CRYING 01; used for the pies when they cry while being cooled off.)

Code Black

The Cramp Twins (Heard in "Shed Dead".)
Crossing Jordan (Head once in "Family Ties".)
Daniel Tiger's Neighborhood (Heard in "The Baby is Here".)
Desperate Housewives (Heard once in "Multi-Languages".)
Detention (Heard once in a high pitch in "Too Good to Be Truant".)

Dirt

DJ & the Fro (Heard once in "Sub Boss".)

Dr. Quinn, Medicine Woman

EastEnders (February 21st 2020.)
Ed, Edd n' Eddy (Heard briefly in "Truth or Ed".)
Family Guy (Heard once in "Emission Impossible", "Farmer Guy" and "High School English".)
Fresh Off the Boat (Heard in "Workin' the 'Ween".)
Game Shakers (Heard once in a high pitch alongside Sound Ideas, HUMAN, BABY - CRYING in "Scared Tripless" during the videotaped flashback scene when Double G uses his scary mask to scare baby Triple G.)
The Good Night Show (Heard once in "Culture".)
Gullah Gullah Island (Heard once in "Rain Rain Go Away".)

Haunted Hospitals

(Heard twice in "Where There is Smoke, It Moved and Nun So Wicked".)
Henry Danger (Heard once in "Kid Grounded" when Kid Danger rescues a baby from the sewer at the beginning.)
Hero: 108 (Heard often for the Chameleons when they cry.)
The High Fructose Adventures of Annoying Orange (Heard once in "Fruit Plane!".)

Holby City

(14th January 2014)
Johnny Test (Heard once in "A Scholarship for Johnny"; and heard along with Sound Ideas, HUMAN, BABY - CRYING in "Gil-Stopping Johnny".)
Kappa Mikey (Heard once in "The Good, the Bad, and the Mikey".)
Katie and Orbie (Used once for Baby Megan when she cries in "The New Baby".)

Kenny vs. Spenny

Killing Eve (1st half heard once in "Nice and Neat".)
King of the Hill (Heard in "Next of Shin".)

King (2003 TV Series)

(Heard once in "The Monster Who Wouldn't Arrive".)
Law & Order (Debut; heard in "God Bless the Child" and in the last 6 seasons.)
Law & Order: Criminal Intent (Heard in "Bombshell".)
The Little Couple (Heard in "I'm a Little Boss".)

Marvel's Runaways

(Heard once alongside Sound Ideas, HUMAN, BABY - CRYING in "Hostile Takeover".)

Medium

(Heard in "Baby Fever".)
Milly, Molly (Used once for Daisy-Rose when she cries in "Sweet Pea".)
My Big Big Friend (Heard repeatedly in "Derailed".)
My Gym Partner's a Monkey (Heard once in "Supplies Party" and "The Hyena and the Mighty".)
My Life as a Teenage Robot (Heard once in "Designing Women".)

New Tricks

Nicky, Ricky, Dicky & Dawn (Heard once in "Quad with a Blog".)

Nova

Olivia (Used for Olivia's baby brother William when he cries.)

The Outsider (2020 TV Series)

(Heard once in "Tear-Drinker".)

Padjaklubi

Pakdam Pakdai (Heard once in "Piggysitting".)

Penny Dreadful

Phil of the Future (Heard once in "My Way".)
Pink Panther and Pals (Heard once in "Baby Makes Three".)

Planet Sketch

(Heard in "Toothbrush".)
Pocoyo (Heard once in "Christmas Carol by Charles Dickens" and "Elly's Magic Wand", used for Baby Pocoyo when he cries.)

Psych

Ren & Stimpy: Adult Party Cartoon (Heard once in "Stimpy's Pregnant" towards the end.)
The Ren & Stimpy Show (Heard once in "Ren Needs Help!", "Who's Stupid Now?" and "Pen Pals".)
Rugrats (Heard once in a high pitch in "Partners in Crime".)
Sabrina's Secret Life (Heard often in "And Baby Makes Three".)
Scooby-Doo and Guess Who? (Heard once in "Dance Matron of Mayhem!".)

Secrets of the Earth

(Heard once in "Abandoned Places".)
Shining Time Station (Heard twice in "Mr. Conductor Gets Left Out" on the "24 Hour Crybaby Channel".)

Shortland Street

Side Hustle (Heard once in "Chemistry Hustle".)

Sister, Sister

(Heard once in the first and second season intros.)

Sleepy Hollow (2014 TV Series

(Heard once in "Insatiable".)
South Park (Used once for Elvin Cartman when he cries after he finished his fudgesicle in "Merry Christmas, Charlie Manson!".)
Star Trek: Enterprise (Heard once in "The Similitude".)
Superjail! (Heard in 3 episodes.)
Team Umizoomi (Heard once in "Super Trip to the Supermarket".)
Teen Titans Go! (Heard once in "Staring at the Future", "Operation Tin Man", "I'm the Sauce" and "Hot Salad Water".)
The Middle (Heard in "Ovary and Out".)
Uncle Grandpa (Heard once in "Future Pizza".)

Vikings (2013 TV Series)

What Remains (BBC drama)

The Wild Thornberrys (Heard once in "Darwin Plays the Palace".)
YaYa and Zouk (Heard once in "The Ball".)
TV Specials
Movies
2012 (2009) (Heard in a low volume during the Los Angeles Earthquake scene.)

Anne: Journey to Green Gables (2005)

Babes in Toyland (1997) (Heard when Barnaby Crookedman steals the baby's bottle and tosses it away.)

The Brothers Solomon (2007)

Dr. Seuss' How the Grinch Stole Christmas (2000) (Heard once when Baby Grinch knocks the other baby, it cries while it flies away, and Baby Grinch starts an evil laugh while the other baby is knocked off.)
Drive Angry (2011) (I TMD the Hedgehog think.)
Franklin and the Green Knight: The Movie (2000) (Heard during the song "Brothers and Sisters".)
Goodbye Christopher Robin (2017) (Heard once at the beginning when Christopher Robin Milne is born.)
The Incredibles (2004) (Heard in the Alternate Opening where Syndrome hears Baby Violet Parr crying and then says to Bob Parr, "You are breaking the law, Mr. Incredible. You know supers aren't supposed to breed" his eyes just slowly move in the direction of Violet's room.)
Max (2015) (While Max was searching for Arabic citizens, he hears a baby crying inside the house.)

Moll Flanders (1996)

Rise of the Footsoldier (2007)

Running Scared (2006)

Shoot 'Em Up (2007)

Trolls World Tour (2020) (Used once for Tiny Diamond when he cries like a baby while the other trolls make a yelling reaction on Hammer Time.)
Shorts
Videos
Commercials
Germany:
New Zealand:
Bank of New Zealand - The Good Report (2018)
Poland:
UK:
McDonald's - Breakfast from 6:00am - Bad Start (2014, radio)
USA:
Boiron Camilia - Baby Teething Relief (2018)

Cinemode: Inside Out (2015)

Graco Pack 'N Play Playards - Portable Nappers (2015)

Hotels.com - #MyDream (2019)

Hotels.com - #AnotherVacation (2019)

Kraft Macaroni & Cheese: Channel Surfing (1999)

March of Dimes - Stadium (2007)

True Value Hardware: "The True Value of a Sleeping Baby" (2013)

NHTSA - "Where's Baby? Look Before You Lock" (2018, radio)
Video Games
PC:
PlayStation:
Bloodborne

Dog's Life

Grand Theft Auto V Enhanced (2014) (Heard in the "Vapid Bobcat XL" commercial.)

LA Rush

Maximo: Ghosts to Glory

Terminator - Dawn of Fate

Tomb Raider (2013, live session from 24th May 2018)
SNES:
DS:
Wii U:
Leapster:
1st Grade (Seaside Quest)
Logos
Pie Town Productions

(1999; A Baby Story from TLC.)
Promos
The Adventures of Jimmy Neutron - Boy Genius - Home Videos (2003)

PBS: Be More Surprised (Antiques Roadshow) (2003-2009)

Syfy - Toys of Terror (2020) (Promos)
Trailers
The Change-Up (2011) (Trailers)

Four Christmases (2008) (Trailers)

Simon Birch (1998) (Trailers)

Talladega Nights: The Ballad of Ricky Bobby (2006) (Trailers)

Walk Hard: The Dewey Cox Story (2007) (Trailers)
TV Spots
Arthur Christmas (2011) (TV Spots)

The Master of Disguise (2002) (TV Spots)
Policy Trailers
Shorts
Music Videos
Lââm - Les enfants de l'an 2000 (1999)
Miscellaneous
The Amazing Spider-Man (LeapPad book)

SpongeBob SquarePants (LeapPad book)
YouTube Videos
Bob Zoom

(Heard in "Don't Be Afraid".)

Colors 358

(Heard once in a Nestor Gets Grounded episode, "Nestor tells a crying baby to shut up")

Dorkly Kombat

The Funny Cartoons Show

Gonoodle (Heard twice in "If I Were Not A Gonoodler" in a low pitch.)

Holsteincowboy

 (Heard once in "I'm a Calf ! Get me out of here (The Womb)".

iiAFX

(Heard once in ""The Lion King" References in Film/Television SUPERCUT by AFX".)

Just for Laughs Gags

(Heard once in "Smoking Baby Prank".)

Kate Ashby Videos

(Heard once in "Little Kate Ashby Misbehaves at Toys R Us" when Kate throws a bomb.)

MojoOnPC

(Heard once in "Day in The Life of a Pro CS:GO Player".)

Pointy bits

(Heard when the game over screen plays.)
SML Videos (Heard once in "Baby Shrek and Mario and Bowser's Stupid and Crazy Adventure: Season Finale.)
Smosh Videos (Heard once in "EVERY PREGNANCY EVER".)
Anime
Blood Plus (Heard once in "Two Queens".)
Mr. Osomatsu (Heard once in "Delivery".)

Mr. Stain on Junk Alley

(Heard once in "Human".)
My Hero Academia (Heard once in "Izuku Midoriya: Origin".) (I Makara Furusawa think)
Musicals
Cirque du Soleil: Mystère
Image Gallery
Sound Ideas, HUMAN, BABY - CRYING, WHINING/Image Gallery
Audio Samples