Wiki Targeted (Entertainment)
Play Sound
This sound effect can be found on The General Series 6000 Sound Effects Library, which was made by Sound Ideas. It is the same track as HollywoodEdge (Europe Edition), Roland UK - Baby Cries from HollywoodEdge (Europe Edition), and it is similar to Sound Ideas, HUMAN, BABY - CHILD CRYING, 2 MONTHS OLD BABY, HUMAN, DIGIFFECTS from Human Sound Effects by Digiffects - Series I.
Info
First recorded: 1991
Creator: Brian Nimens
Owner: Sound Ideas (1992-present)
Origin: United States and Canada
Year debut: October 22, 1991
First heard: God Bless the Child (a Law & Order episode)
Area used: Worldwide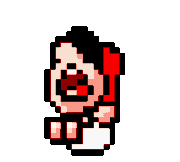 Trivia
This is one of many sounds that TV Tropes collectively refers to as "Most Annoying Sound". The page itself even has a picture of Baby Mario in a bubble crying, due to it being heavily used in the Super Nintendo game Super Mario World 2: Yoshi's Island. It's still being used as of today, among other baby crying sounds.
Clean, Full Length and Unedited Link to the Sound Effect
Used In
TV Shows
TV Specials
Movies
Shorts
Videos
Commercials
Germany:
New Zealand:
Poland:
UK:
USA:
Video Games
PC:
PlayStation:
SNES:
DS:
Wii U:
Leapster:
Logos
Promos
Trailers
TV Spots
Policy Trailers
Shorts
Music Videos
Miscellaneous
YouTube Videos
Gonoodle (Heard twice in "If I Were Not A Gonoodler" in a low pitch.)
Holsteincowboy (Heard once in "I'm a Calf ! Get me out of here (The Womb)".
iiAFX (Heard once in ""The Lion King" References in Film/Television SUPERCUT by AFX".)
Just for Laughs Gags (Heard once in "Smoking Baby Prank".)
Kate Ashby Videos (Heard once in "Little Kate Ashby Misbehaves at Toys R Us" when Kate throws a bomb.)
MojoOnPC (Heard once in "Day in The Life of a Pro CS:GO Player".)
Pointy bits (Heard when the game over screen plays.)
Smosh Videos (Heard once in "EVERY PREGNANCY EVER".)
SuperMarioLogan Videos (Heard once in "Baby Shrek and Mario and Bowser's Stupid and Crazy Adventure: Season Finale.)
Anime
Image Gallery
Sound Ideas, HUMAN, BABY - CRYING, WHINING/Image Gallery
Audio Samples
Community content is available under
CC-BY-SA
unless otherwise noted.