This sound effect can be found on Hanna-Barbera Sound Effects Library, which was made by Sound Ideas. It was originally a Warner Bros. sound effect which perhaps debuted in the Looney Tunes short "Bunker Hill Bunny" (1950) and used in a few MGM shorts afterward. Additionally, it's often used in Cinemassacre's Angry Video Game Nerd as its trademark explosion sound (along with 03 for anything that explodes.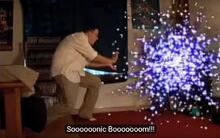 Similar Variations
Used In
TV Shows
Movies
Shorts
Video Games
Arcade:
PC:
Game Boy Advance:
PlayStation 1:
PlayStation 2:
Nintendo Gamecube:
Xbox:
Android:
iOS:
Commercials
Trailers
YouTube Videos
Anime
Image Gallery
Sound Ideas, EXPLOSION - LARGE EXPLOSION 01 (H-B)/Image Gallery
Audio Samples
Community content is available under
CC-BY-SA
unless otherwise noted.